In recent blogs, we've looked at shipping container salons, big box solutions for schools and sports clubs and even storage container office ideas. As we prepare for 2022, we round up five more suggestions for business startups with shipping containers at their foundation.
1. Dog groomers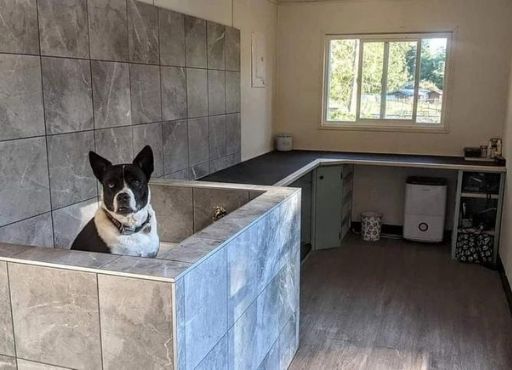 Image credit: Imgur
Pampered pet services are growing in popularity all the while, and with no set qualifications needed, it's little wonder why. However, a few things can set you apart as a reputable tradesperson if you decide to go this route. Getting a City and Guilds qualification is one – it looks great on a business card or online ad, and sounds fantastic when you talk to people about what you do.
However, another obvious way to attract clients is to create an appealing business space that has a wow factor to it. A well converted shipping container will certainly give you that!
We found the image above being discussed on Reddit, and we love it for how simple yet stylish it is. It even has a little doggy bath ready for pups to get washed in. We just wish the owner's dog was a little happier about it! But even if Fido isn't convinced, dog grooming is still one of our favourite startup business ideas with shipping containers.
2. Food and drink stall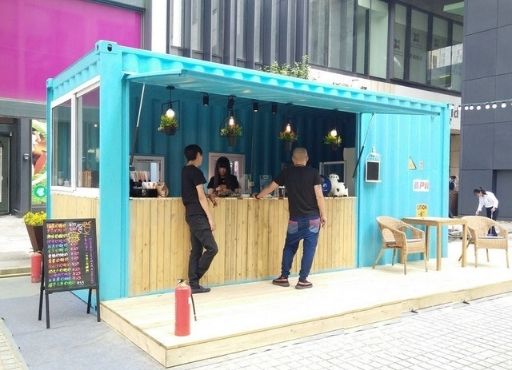 Image credit: Made In China
Setting up a restaurant is a dream for many, but the costs can be prohibitive – especially with the pandemic escalating commercial building rents. Establishing your own food stall in a shipping container could prove a more accessible route into the food and drink business.
From cafes and bars to modern hipstery food markets, a shipping container gives you a secure, waterproof structure that you can outfit with a small kitchen, and even take with you to different locations. If catering is the career for you, this could be the shipping container startup idea you're looking for.
3. Pop-up shop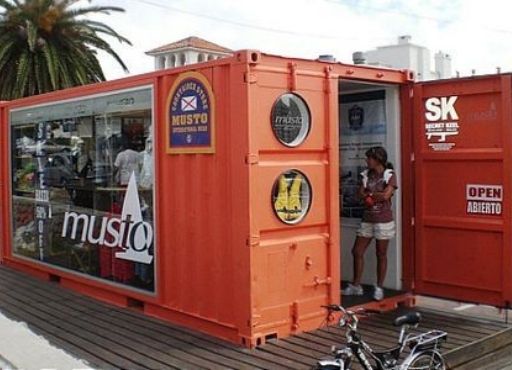 Image credit: Pinterest
The retail world is currently in a state of flux, with online shopping growing in popularity and major high street stores seemingly shutting left, right and centre. However, in many cases that's allowed smaller stores to pop up and thrive, selling the kinds of cute little curios you'd rarely find in major chains.
If the idea of opening one such place appeals, you could do a lot worse than consider a shipping container as home to your fledgling business. The secure nature of a storage container means you don't need to worry about break-ins. As in the example above, it's also easily adapted with reinforced glass to showcase intriguing and appealing window displays.
4. Art studio/art gallery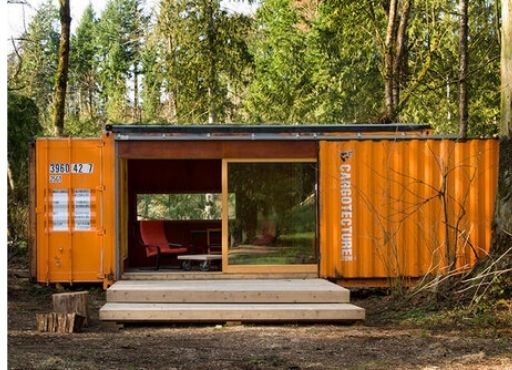 Image credit: Super Cubes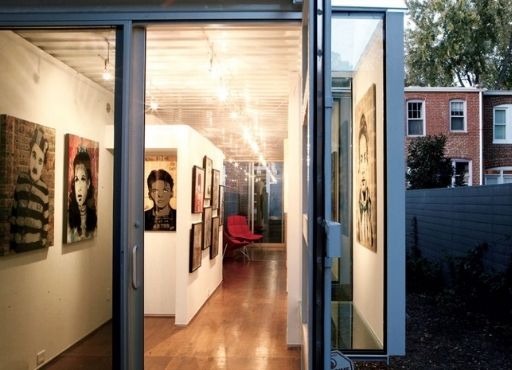 Here's an altogether different idea: become an artist. Create masterworks from your garden or a central office location that you can decide upon – then showcase it all in your own studio and sell your work to the general public!
These are really two prospects rolled into one, requiring two completely different types of shipping container conversion. Still, you could conceivably place them next to each other and carve out your own little art enterprise, anywhere with a suitable plot of land. If you have serious artistic talent, this could be the shipping container startup idea for you.
5. Surf shack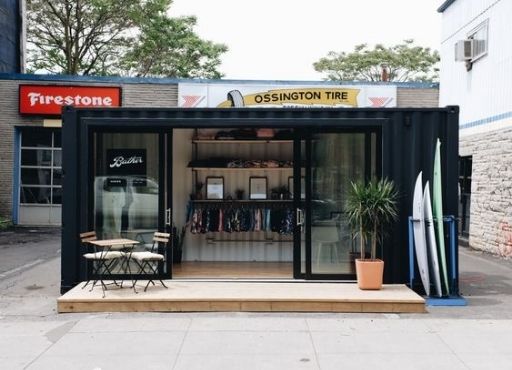 Image credit: Pinterest
Summer might feel light-years away as we write this in the dead of winter, but if you're thinking about business ideas with shipping containers, actually getting things off the ground could take you until summer. So if you looked into it now, you could have your very own surf shack up and running by the time the sunny season rolls around!
It may be niche as ideas go (especially given the British weather), but the British surf scene is surprisingly thriving, especially if you live near one of the UK's best surf beaches. And even if you don't, building your own business from scratch from a shipping container could be just the excuse you need to escape to the coast and live the beach life you've always dreamed of.
Considering running your own container startup?
Opening a business is never easy, but at Philspace we can at least make finding a suitable container simple and straightforward.
We offer a range of containers in different sizes, and can even design bespoke units to your specifications. Get in touch with us to discuss your options and get on our container waiting list.
Cover image credit: Dezeen