Shipping containers can be used to house all kinds of pop-up businesses – including salons!
The great thing about these businesses is they fit so well into the boxy space of a shipping container. All you need is a small bench for a waiting area, a chair or two for customers to sit in, plus power sockets, a worktop and a sink for washing hands and hair in.
Of course, if you're creative, it can come together as so much more than the sum of its parts – just like the five fabulous shipping container salons below!
Dyson Blowdry Bar by Steel Space Concepts in Montreal, Canada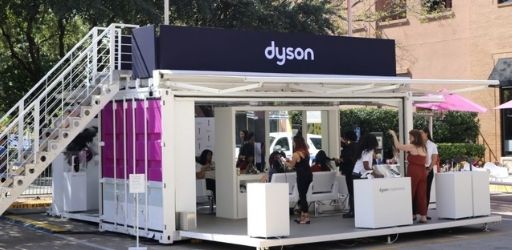 Image credit: Steel Space Concepts
When internationally-renowned British appliances company Dyson decided it needed to create a buzz about its new Supersonic hairdryer, company executives landed on the idea of a touring mobile salon that stopped in New York, Miami, Dallas, Denver, San Francisco and Seattle.
To bring the tour to life, they enlisted Montreal-based Steel Space Concepts, who adapted a 20ft shipping container into a fold-out blow-dry salon space that even had an upper mezzanine area!
Both a promotional space and a fully functioning salon in its own right, the blowdry bar shows just what you can do when you want a salon made from a shipping container and have a big enough budget to throw at the project.
Hair Envy by Sophie Scotson in Nelson, New Zealand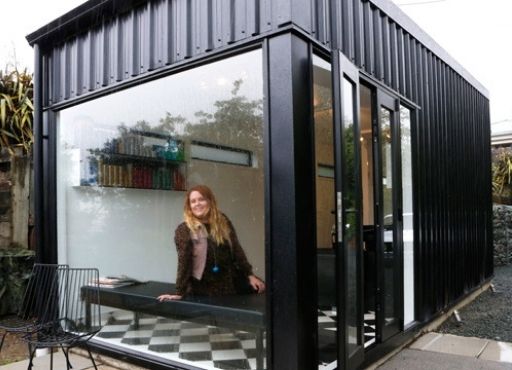 Image credit: Stuff New Zealand
Of course, most people looking to run a hair salon in a shipping container won't have anything like that kind of corporate backing. Such was the case for hairstylist Sophie Scotson in New Zealand. Nonetheless, that didn't stop her from ordering a 20ft shipping container and having it converted into a stylish hair salon that matched her love of the industrial look.
"I was really set on what I wanted. I knew exactly what I wanted and I was going to get it," she told Stuff NZ. "I have had heaps of people come up here because they have seen it being built and they are really interested in it. Others come up because they are nosey. They are kind of shocked by how light and bright and breezy it is."
A simple space with a black and white tile-pattern floor and a glass wall that allows sunlight to flood in, Sophie's taste makes for an understated and elegant hair salon container solution.
My Hair Shed by Leah Whittemore in Heathcote, Australia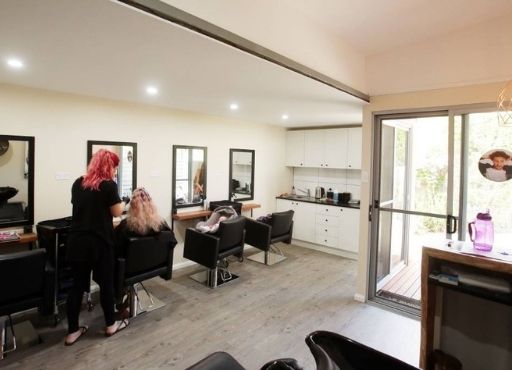 Image credit: The Leader
From one hair salon container solution down under we move to another – albeit one that's taken a very different approach to similar ends.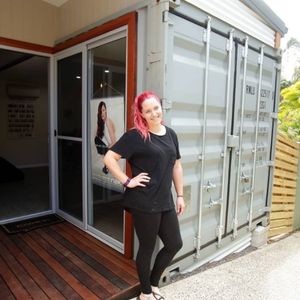 Instead of setting her container salon outside as its own standalone space, Leah Whittemore has taken a 20ft shipping container, removed the side down one length, and used it as an extension to another extension at the side of her house.It may not look entirely clear from the inside shot – such is the quality of the integration – but from the outside shot you can clearly see where the container has been worked into the building.
The end result is a salon that uses the container to give it that extra bit of space and feels like a fully-fledged shop. It's not so much a hair salon in a shipping container, as a shipping container that defines the whole salon project.
Beauty Salon in a Box Concept by 2x20FT in Berlin, Germany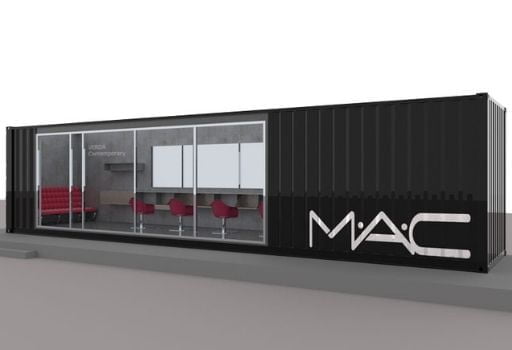 Image credit: 2x20FT
So far, we've only featured hair salons. This is a brilliant example instead of how you might go about doing a beauty salon shipping container conversion.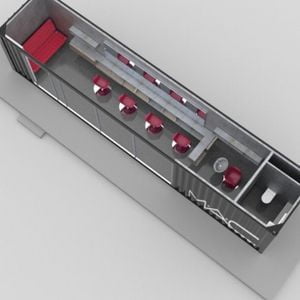 This project came about when a busy Berlin beauty centre approached local container design agency Two Times Twenty Feet about helping them to keep their clientele while they went about renovating their existing salon. The agency created this mock-up of a 40ft shipping container replete with waiting area, nail bar, hair care space and even a cosy little loo!
Add the MAC branding on the front, and what you have here is an impressively purpose-built beauty salon shipping container conversion that could easily be rolled out at events like fashion shows and festivals.
The Shack Hair Salon by Sinead Kelly in Cornwall, UK
We finish our look at five fabulous shipping container salons closer to home, with something of an inspiring success story down on the UK's south coast.
Sinead Kelly had to overcome uprooting her life to another country, family separation and illness, becoming a carer at a young age, and becoming pregnant in her teens before starting her own business based in a shipping container.
The business, lovingly labelled 'The Shack,' is housed in a 20ft container based at Sinead's home, which gives her the ability to flex between being a businesswoman and a mum at the drop of a hat.
This, we feel, is another underestimated aspect of businesses built around shipping containers. The fact they can be located pretty much anywhere really does give would-be owners the chance to live a life that's more on their terms. All it takes is a little creativity, vision, and enough cash up-front to make the purchase and push forward with the venture. In Sinead's case, that came good. And good on her!
Considering opening your own shipping container salon?
In Sinead's story above, the task of finding a suitable shipping container proved tricky. Thankfully, it doesn't have to.
At Philspace, we're experts in helping you make the ideal container choice for your start-up business. Take a look at our range of shipping containers here and then contact us to chat about which one is right for you, and get on our waiting list.
Cover image credit: Salon and Spa Galleria