These are five ways shipping containers have provided disaster relief and crisis support across the world.
Lifeboat in a box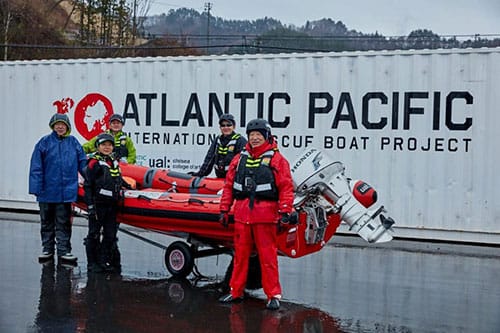 Image credit: Atlantic Pacific
For the first of our five ways shipping containers helped in emergencies, we're starting quite close to home. Wales, in fact!
Atlantic Pacific (AP) is a registered UK charity that came up with a simple but innovative idea: to build a self-contained lifeboat station that could be shipped anywhere lifeboats are needed.
Borne out of efforts to help the Tsunami-affected region of Kamaishi in Japan, the charity's first pop-up lifeboat station was put together by International Baccalaureate Diploma students from United World College in the Vale of Glamorgan. It packed in a lifeboat, crew room and workshop area, and shipped to Kamaishi in 2016. The project was then featured on BBC News two years later as its life-saving successes became apparent!
With AP now working on a Sea Safety Centre in Kamaishi, this is one shipping container adaptation that looks set to make waves in all kinds of positive ways.
If you're inspired to back the lifeboat in a box project… well, you can! Head here to make a donation.
Fire service training areas
We've titled this post 'Five Ways Shipping Containers Helped in Emergencies' – so we'd be remiss not to include a way they help firefighters. After all, of all of our emergency services, firefighters are arguably the ones in the most danger on a regular basis!
Thankfully, fire services are well prepared to do their job because of the incredible training they go through. That training is only enhanced by facilities such as the fire training boxes used by Wichita Fire Service in the video above.
You might think that a structure designed to be damaged by fire would be a shell with little thought behind its construction. That couldn't be further from the truth. These training areas are meticulously thought-out feats of engineering. Check out this post on Fireengineering.com to learn more.
Temporary homeless housing
There are many examples of ways shipping containers can help reduce homelessness. One of our favourites comes from Los Angeles based Flyaway Homes, which is looking to solve the city's homelessness crisis with an added touch of class.
Funded by local government grants, Flyaway works with both commercial companies like established building firms, and non-profit organisations like their principle partner The People Concern. Together, they've produced high-quality permanent supported housing, built to a third of the per-person cost of regular housing, and in around a third of the time.
Flyaway's pilot development at 820 West Colden Avenue opened in 2018 and features beautiful interior furnishings, with space for four bedrooms along with shared kitchen, living and bathroom areas. And with a second project in the works, the company's efforts are clearly bearing fruit.
Shipping container housing for the homeless hasn't always had the best reputation, but Flyaway's approach points to a promising future for any local governments that follow suit.
Container clinics
The video above is a powerful example of what can happen when someone cares deeply about the welfare of others, and is able to source the resources and creativity to really make a difference.
In 2010, a non-profit organisation called Containers2Clinics (C2C) launched a prototype containerised medical clinic in the then-earthquake-devastated city of Port-au-Prince, Haiti.
The project was a response to escalating infant and maternal death rates that C2C founder by Dr Elizabeth Sheehan labelled "staggering," and a need for high-quality, affordable healthcare she called "critical."
The clinic treated over 5,000 people in the first six months alone, offering state-of-the-art medical care in a manner regarded by patients as "cleaner and better" than local hospitals.
Later rebranded as Care2Communities, the organisation now has seven clinics in total, and this year aims to hit the benchmark of treating over 50,000 people annually.
Tools for self-reliance
❗️13,240 tools are on their way to Malawi ❗️
🔨🚛➡️🇲🇼👩‍🔧🧑‍🔧

Leaving early yesterday morning, the double-sized, 40 foot container began its journey to Malawi – watch the video to find out more 👇#SustainableLivelihoods #Tools #Malawi pic.twitter.com/65E3IEYAnF

— ToolsForSelfReliance🔧🔨 (@tfsr) November 18, 2020

The last of our five ways shipping containers have provided disaster relief marries the typical use of container units with a very un-typical aid project.
Founded in 1979 to help relieve poverty in Africa, Tools For Self Reliance carries out its mission by supporting tradespeople to make a life for themselves, and offer essential services to their communities, in the poorest parts of the world.
The charity receives tools donations at its Southampton headquarters, refurbishes them, and ships them in containers to their partners in Ghana, Malawi, Tanzania, Uganda, Sierra Leone and Zambia. Those partners then deliver training courses, encompassing both technical skills and business and financial management, empowering people in impoverished areas to become truly self-reliant.
As with the other examples in this piece, just knowing we work in an industry that does so much good for those in need makes us incredibly proud. If you feel the same and want to support TFSR's efforts, please visit their donations page.
Helping you to help others
Need a creative shipping container conversion to support an emergency service or crisis situation? We can help.
Take a look at our available products or get in touch with us to discuss bespoke solutions.