In what was the most challenging year worldwide in a lifetime, the container industry saw some incredible and inspiring leaps in creativity. This is how shipping containers are proving adaptable in the fight against coronavirus.
We've already explored some incredibly creative uses of shipping containers on our blog – from garden sheds and home offices to pop-up hydroponics farms.
Read on to learn how shipping containers have been transformed during COVID-19.
Screening and testing areas
The first way shipping containers proved versatile in COVID-19 fight has been the creation of portable COVID testing pods.
Amongst the most prominent is the Portable Screening & Testing Pod from Canada-based company Citizen Care Pod (CCP), which integrates a modular design and technology for virus-safe testing.
CCP's testing pod is designed to separate tester from patient, allowing you to walk up to the window, where a health worker takes a sample and then tests it within the pod itself. Its protective nature also means workers don't need to replace personal protective equipment (PPE) after each test, helping companies to conserve valuable PPE supplies.
CCP says that one 20-foot unit is able to test 576 people every 12 hours, (that's 4,032 people a week, or 9,072 for a 40-foot pod). Crucially, because the unit is made from a shipping container, it can be transported by road, rail and boat, and placed pretty much anywhere virus testing is needed.
Portable classrooms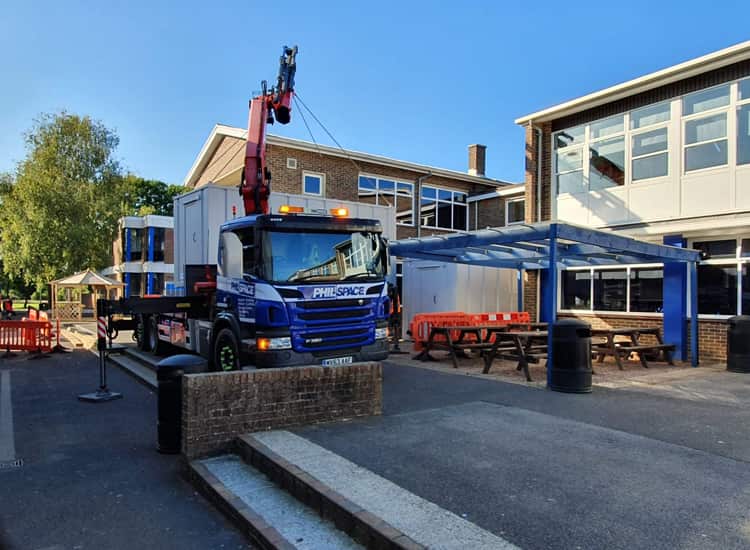 Another of the ways converted shipping containers helped in the fight against COVID-19 is by being turned into pop-up learning spaces.
One heartening example comes from Australia, where Brisbane-based construction company Canstruct donated 10 negative pressure portable hospital rooms to Marsden State High School, allowing medical students to learn how to treat COVID-19 patients.
Citizen Care Pod also offers its own solution, the CCP Social Distancing Pod, designed with heating and ventilation systems that make it safe for teachers and students alike in all weather conditions. It even allows for the addition of a solar array and batteries to allow the use of electronic equipment.
Over in the UK, our team at Philspace also got in on the act. In September 2020 we provided two purpose-built changing rooms to Swanmore College in Hampshire, helping their students to continue sporting activities amidst the new normal.
COVID-compliant care home visitation spaces
God bless Canada. Not only is it the home of Citizen Care Pod, it's also the scene for one of the most touching uses of shipping containers during the pandemic.
Ontario-based PCL Construction has retrofitted shipping containers to turn them into spaces where elderly care home residents can be visited by loved ones – as well as for COVID-19 testing and screening.
90 of these containers have been deployed across the province of Manitoba, helping vulnerable people in 90 different care homes connect with their families. At a time where connection is more important than ever, this is one of our favourite examples of how shipping containers have helped the pace of coronavirus relief efforts.
Pop-up treatment centres
Another way shipping containers proved versatile in the COVID-19 fight is the appearance of emergency COVID treatment centres – including the CURA Pod.
Standing for Connected Units for Respiratory Ailments, CURA pods are 'plug-in Intensive-Care Pods for COVID-19 patients' with built-in negative pressure biocontainment systems.
Each pod is a treatment unit in itself, and by combining them hospitals can build entire facilities to quickly contain and treat patients suffering from COVID-19.
Already deployed in Turin, CURA pods are sure to help the fight against Coronavirus, and are so adaptable they're likely to find other uses once the pandemic is over.
We also did our bit to help healthcare services here at Philspace. That included providing a welfare unit to Lymington hospital, giving their patients and staff a clean, spacious outdoor building to use as the demands of the pandemic increased.
Maintaining the flow of goods
Our last example of how shipping containers are helping in the fight against COVID-19 is, funnily enough, the very thing they were designed for in the first place!
Global supply chains of all kinds were undoubtedly hit hard by the onset of multiple lockdowns and the jarring 'new normal.' However, where the construction industry is concerned, it's telling that in a survey from The Contractors Health and Safety Assessment Scheme (CHAS) , only 3.38% of respondents answered 'no' when asked if they'd been able to acquire the materials, goods or services they needed for their projects.
Indeed, the fact that there's recently been container shortage directly attributable to the demand for Chinese goods is testament to how supply chains recovered from the early days of the pandemic – and how shipping containers played an essential part of helping people to stay at home, enjoy their purchases, and avoid spreading the virus.
Helping through the pandemic and beyond
That's just five ways in which converted shipping containers helped in the fight against COVID-19. There are many more, too – including serving as pop-up prison cells and emergency housing. How many had you heard of?
Whatever you need to source a shipping container for, we can help. Take a look at our range of products – including our anti-vandal units, which make ideal vaccine pods!
Not sure which container would suit your needs best? Get in touch – we'll be happy to help.