These are some of our favourite cool converted shipping constructions from around the world.
Container City, London
Located by the Thames' Trinity Buoy Wharf, Container City comprises two separate structures; both made entirely from shipping containers. The red Container City I has two levels, but it's the multicoloured Container City II that really catches the eye, and we think of it as one of the coolest converted shipping constructions from around the world.
The two structures are also set in an environment full of container shops and art, making this a particularly popular spot for artists who can rent a container from around £250 a month.
Curious to see Container City yourself? Take a tour via the video above. Or, if you're in London, visit it in person by taking the Docklands Light Rail to East India Station.
Winebox Valparaiso, Chile
This boutique hotel in the city of Valparaiso has to be one of the best shipping container conversions from around the world.
Owned by one of Chile's leading winemakers and designed by his architect wife, Winebox Valparaiso is South America's first four-floor building built from shipping containers and recycled materials.
Inspired by the arrangement of container homes after a 2011 earthquake in the owner's hometown of Christchurch, New Zealand, it's made from 25 decommissioned shipping containers. 21 of those are rooms, and the structure also features a beautifully-lit exposed rooftop with views right across the city.
Mill Junction Silos, Johannesburg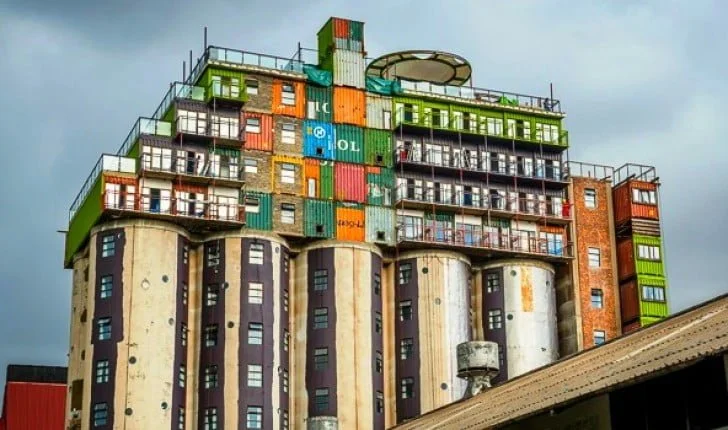 Image credit: Inhabitat
When Johannesburg in South Africa faced a shortage of student accommodation, property developers Citiq converted unused grain silos into apartments to fill the demand. Then to increase floor space, they added a series of stacked shipping containers on top!
With the containers included, the whole space comes to 375 individual apartments. But it's the multicoloured containers we're particularly interested in. They take the structure to 11 stories high, and make a striking addition to the city's skyline that easily qualifies them for our list of amazing shipping container constructions around the world.
Freitag Flagship Store, Zurich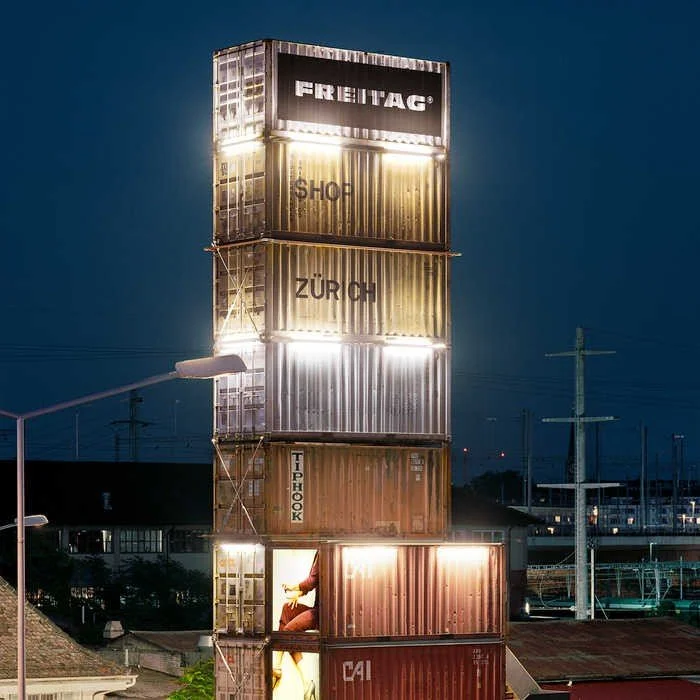 Image credit: Freitag CH
Any list of the best shipping container constructions from around the world needs to include the tallest, and that's Freitag shop!
Standing 85 feet (or 26 metres) tall, this structure is made from 17 shipping containers and includes four floors of shop space.
Freitag is a messenger bag company, and this iconic landmark is designed to reflect how, just like the containers used to make it, their products are also made from recycled materials.
Six Oaks Container Home, California
To finish our list of five cool converted shipping constructions from around the world, we're visiting a densely wooded area of Six Oaks in San Jose, California.
The home in question is a rustic work of art, incorporating a number of creatively stacked containers painted to blend in with the surrounded woodland.
Inside, it's a modern two-floor marvel, with exposed timber on walls and floor and light flooding in from the hinged container doors.
Bright, elegant and decidedly roomy, the Six Oaks structure is so creatively put together that it feels more like a purpose-built home using traditional materials than the boxy layouts of your typical container housing. We love it, and we're sure anyone would agree it belongs on any list of the best shipping container constructions from around the world.
Looking to use a shipping container creatively?
Take a look at our bespoke units or used sale items and get in touch to see what we can do for you.