From families to foodies, music lovers to sports enthusiasts, there are festivals for all tastes being given the green light post-lockdown.
We can't say for sure which ones will go ahead and which won't, but one thing we can predict with confidence is that shipping containers will be there, playing their part to rock your summer in all sorts of fun and exciting ways!
With that in mind, here are seven creative ways to use containers at events this summer that any enthusiastic festival organiser should consider, and all festival-goers should keep a watchful eye out for.
Bars, stalls and shops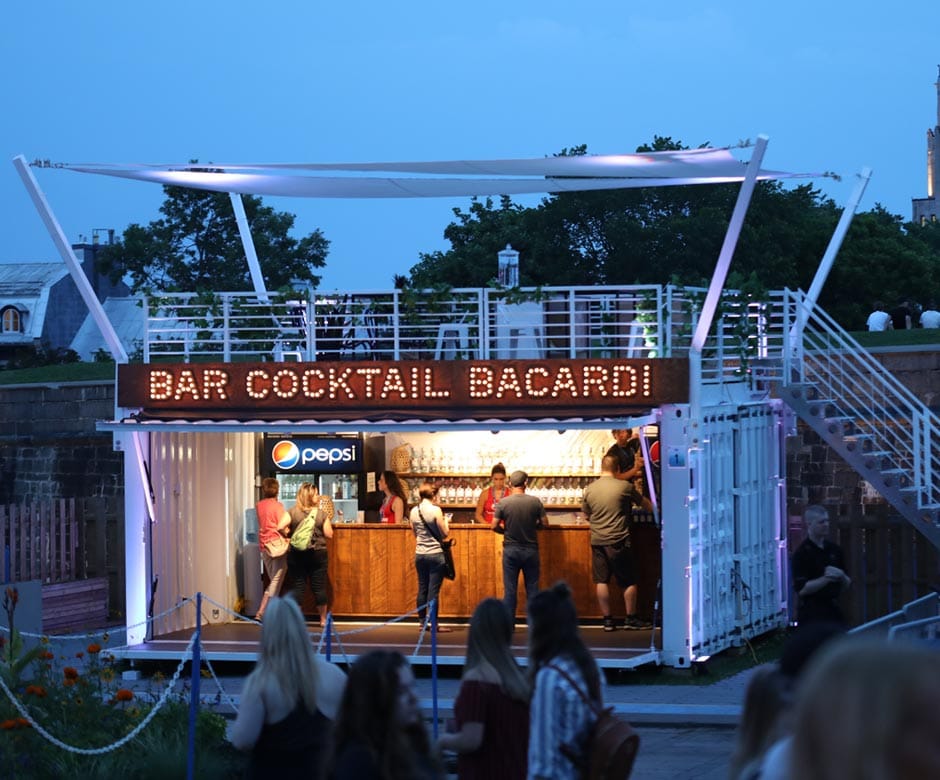 Image credit: Loki Box Design
When it comes to how shipping containers can help summer festivals and festival goers, this is the obvious place to start. From food stalls to pop-up drinks bars, cafes on wheels and portable shops, shipping containers offer both mobility and a look and feel that says 'brand you can trust' – much more so than a dated burger van or wind-battered gazebo.
Secure cashpoints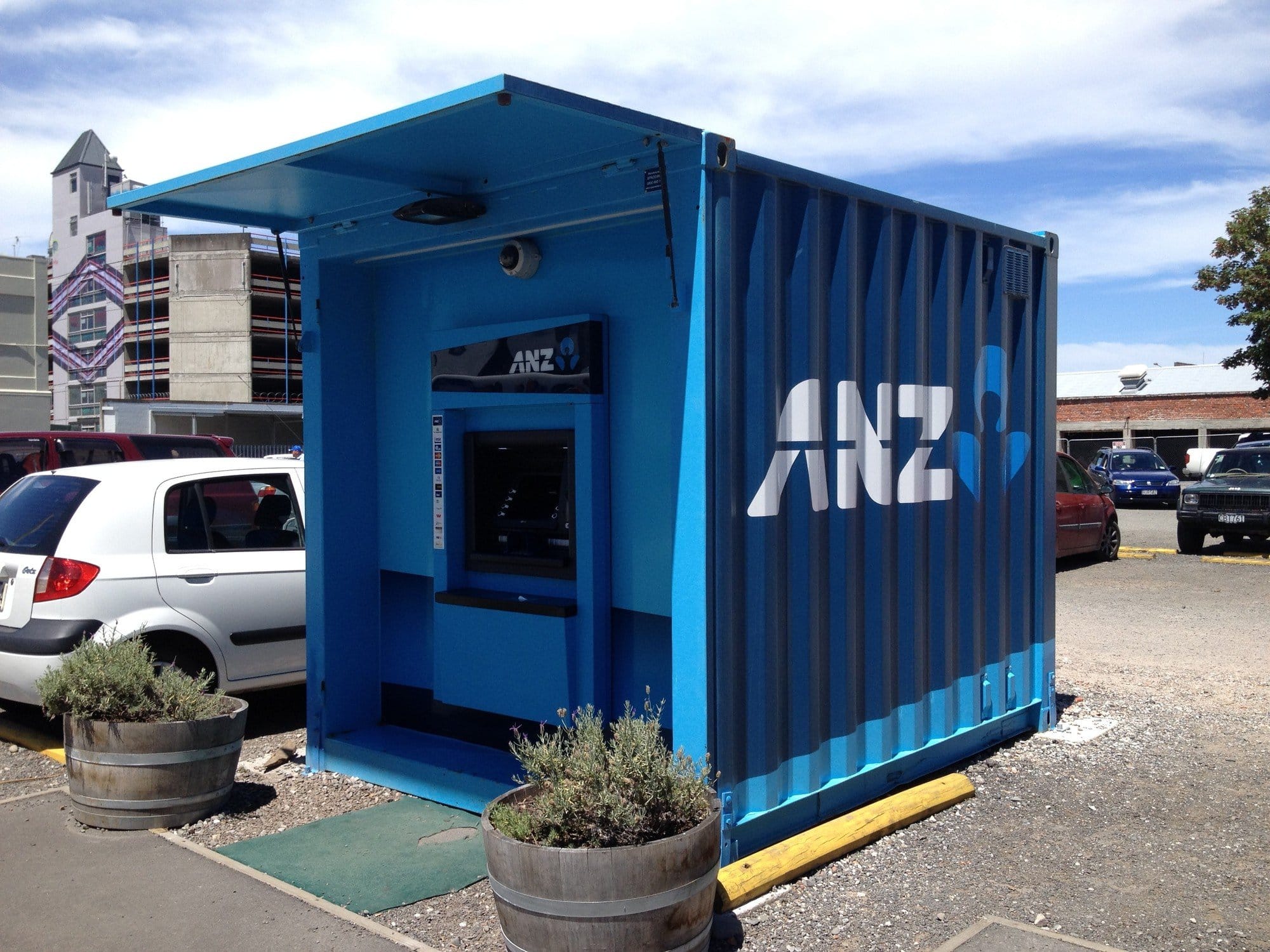 Image credit: Premier Box on Pinterest
Typical portable cashpoints can be quite small, which means they run out of money quickly. Not with an ATM built into a small shipping container. The solid steel box construction is perfect for keeping larger cash amounts secure, and will give festival-goers that little bit of extra reassurance when they're popping in their pin in the middle of a muddy field. Definitely one of the more creative ways to use containers at events to everybody's benefit.
Bandstands and comedy stages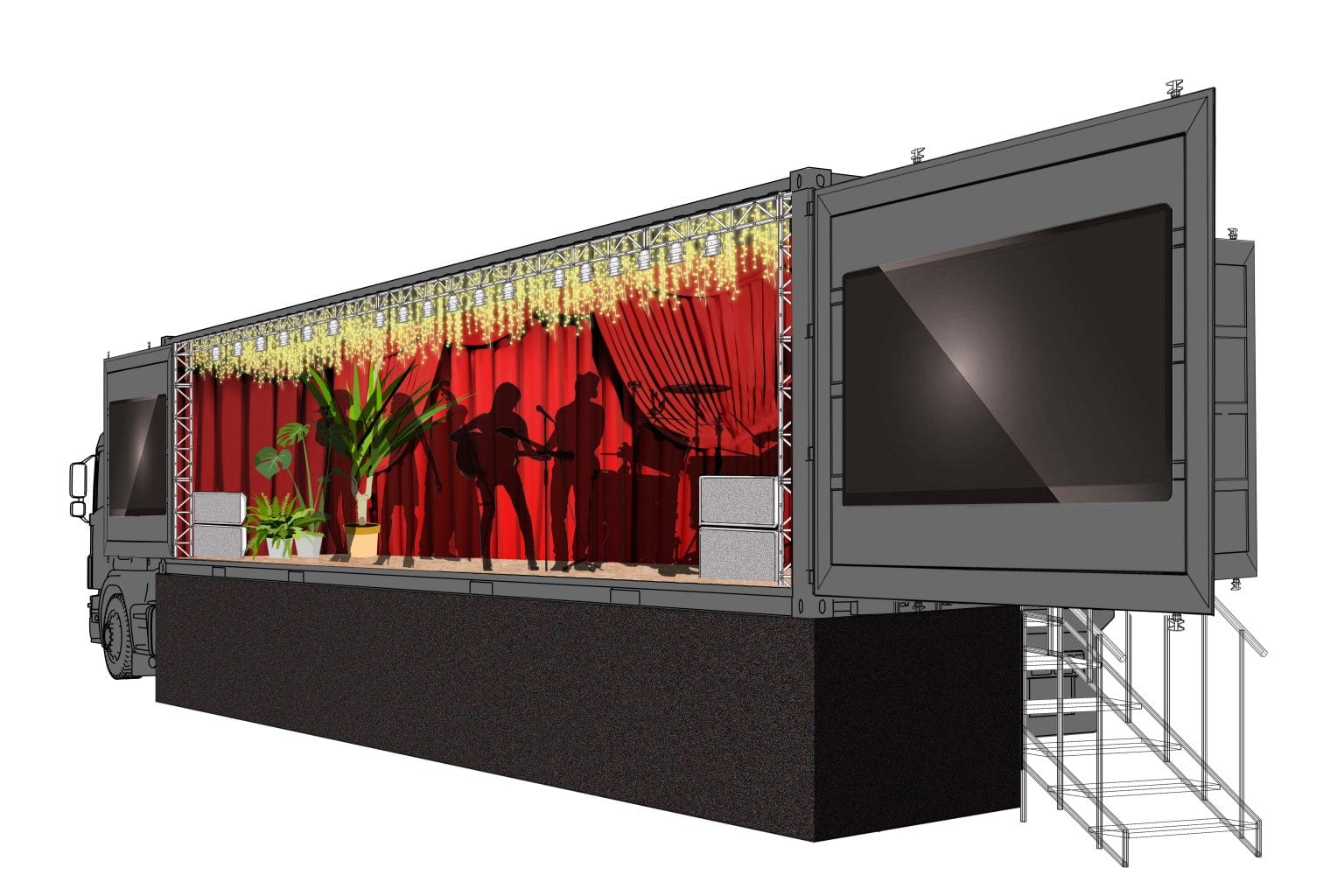 Image credit: GDC Events
This idea is easily one of the best ways to use shipping containers for music venues and festivals. It's especially suited to small-to-medium-sized events where huge, open-air concert vibes are traded for a more intimate feel. Bandstand shipping container conversions even allow for a visual display, with screens fitted to the insides of the hinged doors on full display once the doors are opened wide.
Equipment storage and welfare units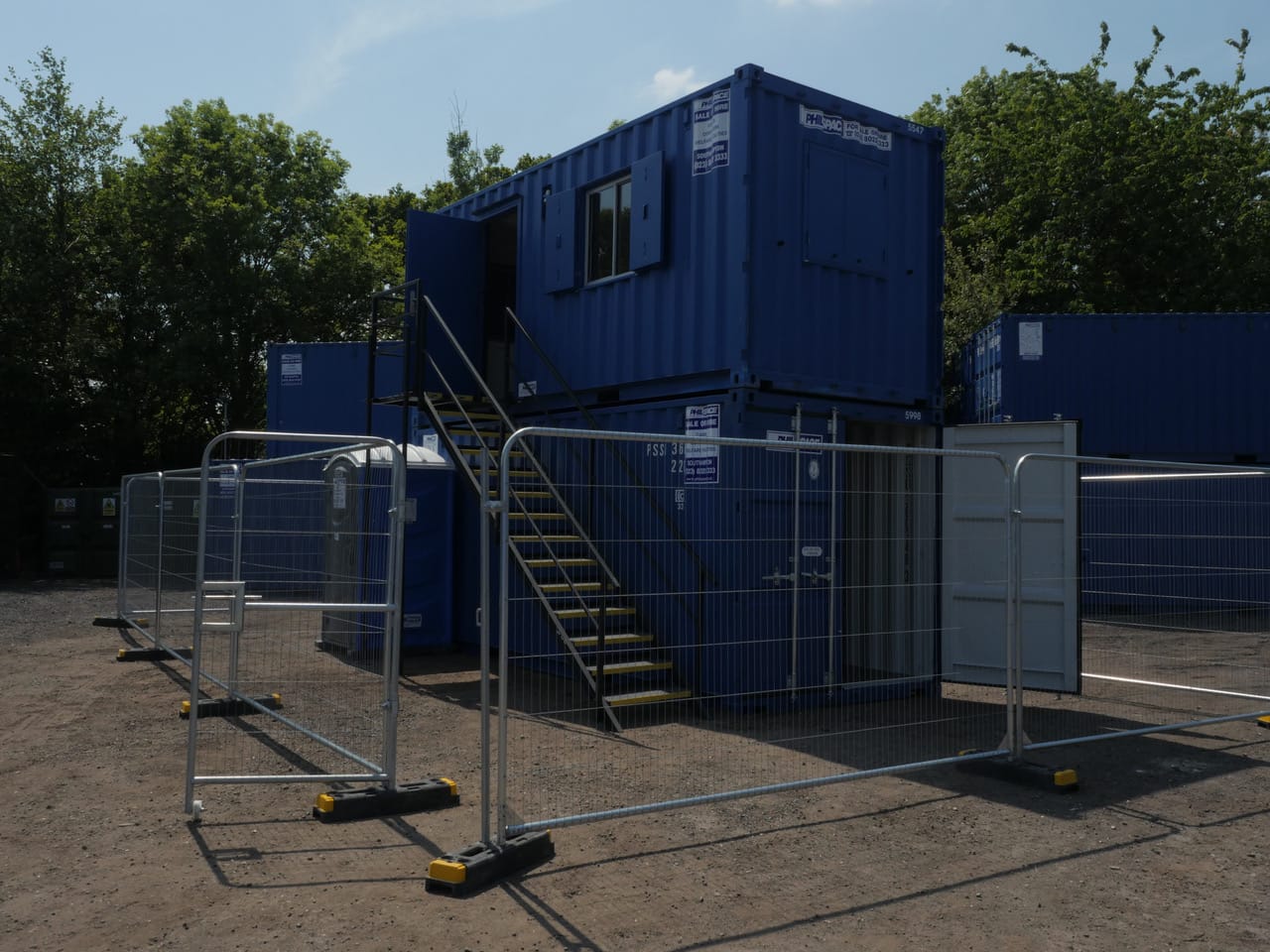 This less glamorous side of shipping container uses is one that festival-goers won't necessarily notice. However, those organising events will probably see it as a Godsend! There's simply so much that goes into organising an entertainment event, and an incredible amount of stuff to store. Not to mention they'll need welfare units with electricity and a water supply to rest and work too. From sound systems and safety equipment to the event staffs' personal items, all of it needs a safe and temporary home. That makes this one of the more essential, if not creative, ways to use containers at events.
Decoration and Ambience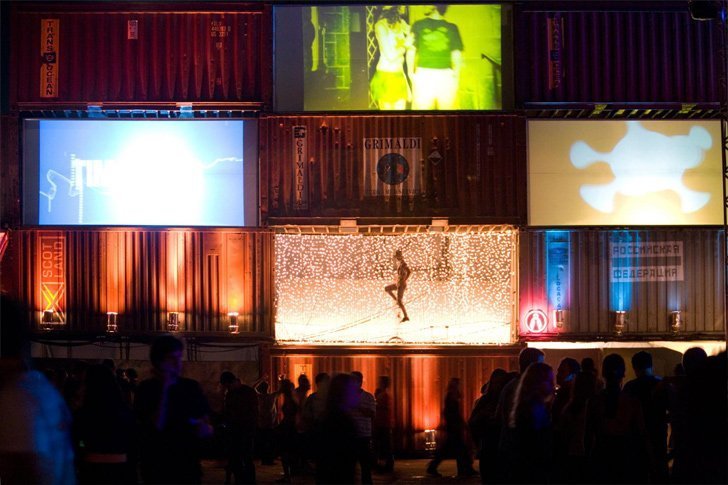 Image credit: Inhabitat
Shipping containers used as storage, shops and stages are a pretty essential part of most modern festivals. But if you're wondering how shipping containers can take festivals to new heights, look no further for inspiration than this installation at a festival in Rio de Janeiro. It sees containers being lit up loud and proud, creating an unforgettable ambience for every attendee.
VIP Lounges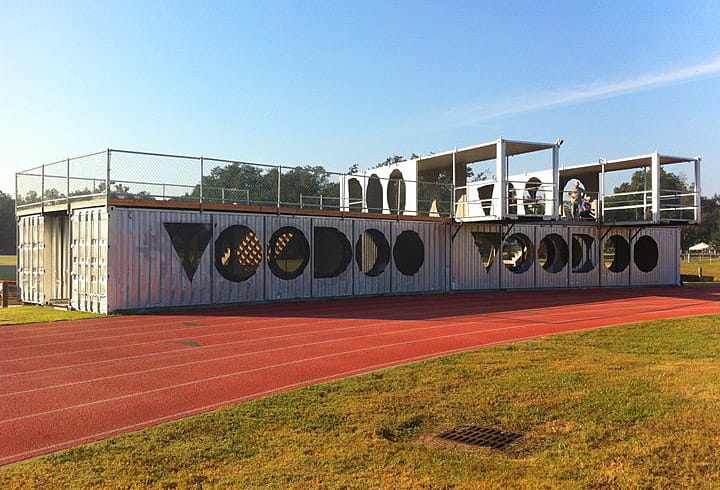 Image credit: Inhabitat
The image above shows just what can happen when someone with a creative vision for a festival VIP area – and the budget to back it up – is able to get hold of a 40' long shipping container. This particular example is taken from the Voodoo Music + Arts Experience in Louisiana – but you don't need a crazy imagination to picture something similar in the UK's 2021 festival scene. We love this use of shipping containers for music venues and festivals and we'd happily spend a bit more on a VIP ticket if we got to enjoy a good part of our weekend in a similar structure!
Loos and showers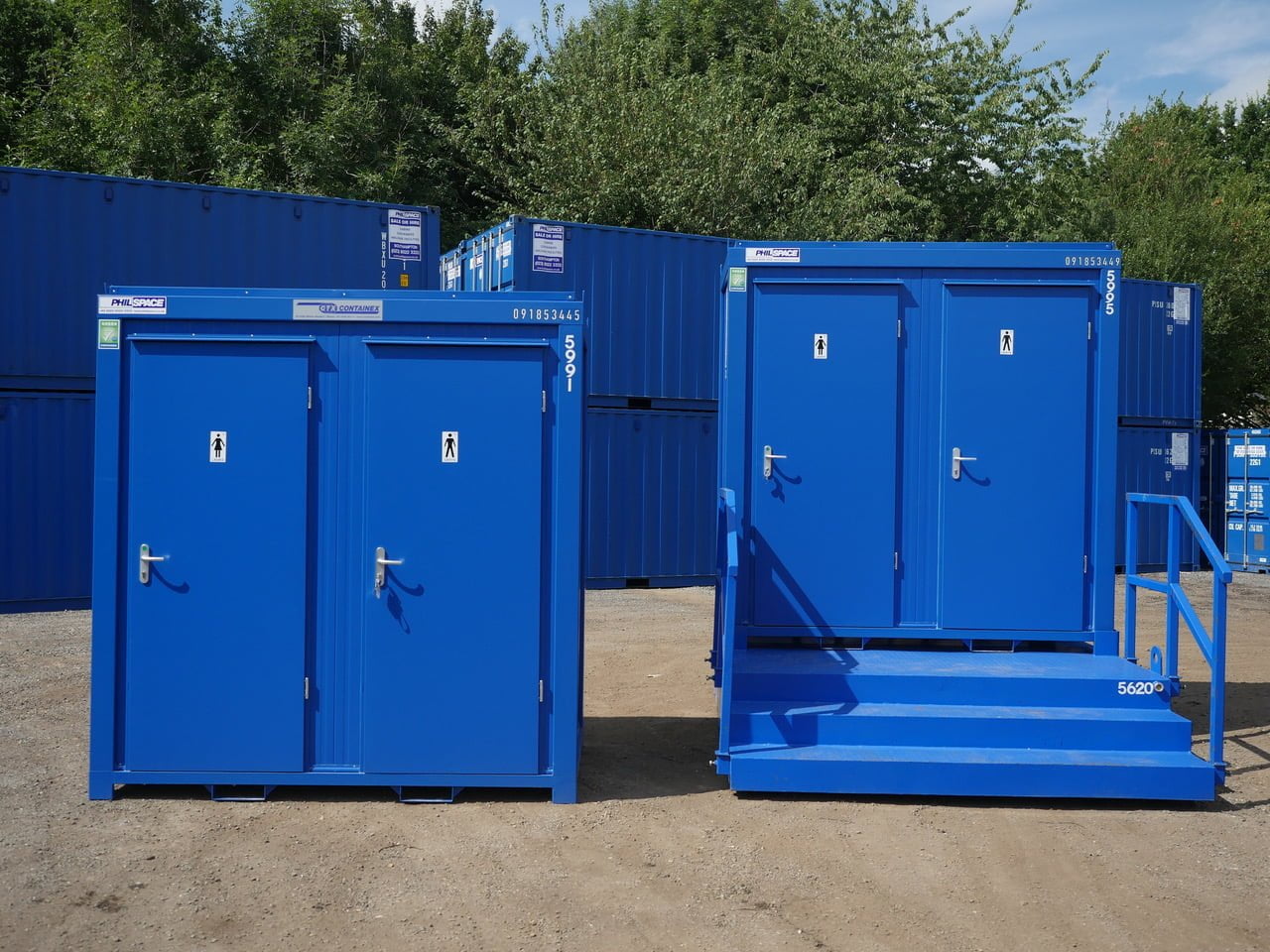 From very important people, to very important porta-loos! They certainly won't be on the festival poster, but no major event for hundreds or thousands of people can go ahead without somewhere for people to have a comfort break. And if scale is important, then we think a block containing several cubicles marginally beats solo toilet units for ease of transportation, placement and event sanitation. You could even add shower units to your event and bring a little home-style luxury to a VIP area or behind-the-scenes facilities for staff and performers.
Helping you rock summer festivals
So that's our blog on how shipping containers will rock summer festivals. Were there any ideas in there you didn't expect to see? Let us know in the comments below.
If you're organising an event this summer and need a container or two to help make it happen, please get in touch. We'll be happy to talk you through your options and how we can help make your event happen.