Shipping containers aren't usually what you think of when you ponder a summer get-away. These heavy-duty steel boxes may usually be used for cargo and welfare units, but they also create unique and neat living spaces. So why not holiday accommodation too?
For us, a holiday is all about giving ourselves a break and experiencing a change of scenery. So, if travel abroad isn't an option, a shipping container summer holiday could be just what you're looking for.
Here are a few examples of how shipping containers are being converted into holiday homes.
Stow Away hotel, Waterloo, London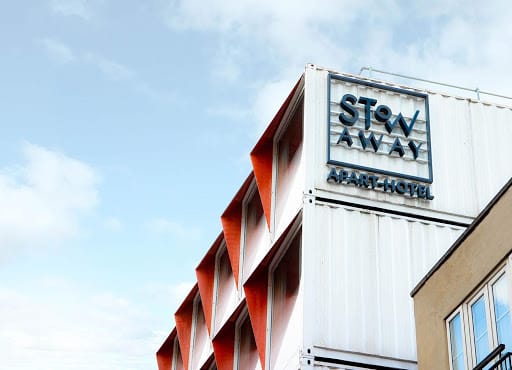 Image credit: Stow-Away
Relax, unwind and stow yourself away in a safe, comfortable container at the heart of London's creative district on the South Bank.
Stow Away hotel is a sensational, eco-friendly apartment hotel. The rooms are created from 26 repurposed shipping containers. The self-contained suites are all fully furnished with blackout-blinds (allowing you to have that lay-in), super king-sized beds and a mini kitchen. There's even the option of contactless check-in, so you can avoid any unwarranted contact altogether.
Ty Cwch, shipping container glamping, Wales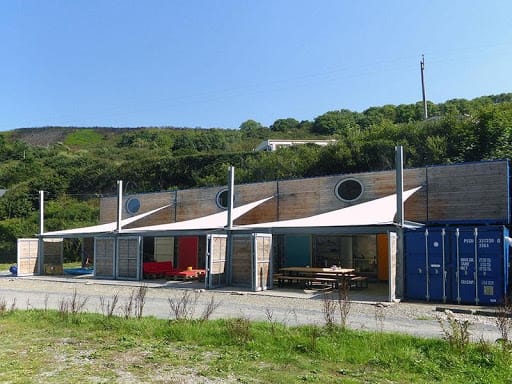 Image credit: Ty Cwch
Ty Cwch is a boathouse in Cwmtydu, a secluded cove on the Cardigan Heritage Coast in Ceredigion. This wonderful Welsh shipping container getaway is an environmental-friendly lakeside boathouse and would make a great base for a lovely adventure in the Welsh countryside.
The container conversion here provides a modern-day accommodation for 12 people, with fully insulated and heated living spaces on the ground floor and three sleeping pods on the first floor where you can be cosy even if it's cold and wet outside (thanks unpredictable British weather!).
Ty Cwch has even been acknowledged with a Mid-Wales Tourism award for sustainability due to the "locally sourced materials, knowledge and experience" that were used to create this modern accommodation.
If you're looking for a converted shipping container holiday, Ty Cwch is a great place to go!
GlamNess luxury containers, Inverness

Image credit: GlamNess
These beautifully converted shipping containers offer an extraordinary glamping opportunity and is just five minutes from the centre of Inverness. It is also just 10 minutes from the well-known shores of Loch Ness. They are a great example of how shipping containers are being converted into holiday homes.
GlamNess Luxury Containers are set in five wonderful acres of trees and grounds complete with its own river. Here you can relax any time of the day and read or admire the setting over a cup of tea – or enjoy a glass of wine in the BBQ area!
These seven shipping containers have been converted to a lavishly high standard for an adults-only escape. The interiors are submerged with natural daylight thanks to the glass fronts, which provide astonishing views over the surrounding countryside.
Each container also has its own private bathroom (with a shower), balcony and terrace, giving you a full intimate villa experience!
Huxham Hideaway, Devon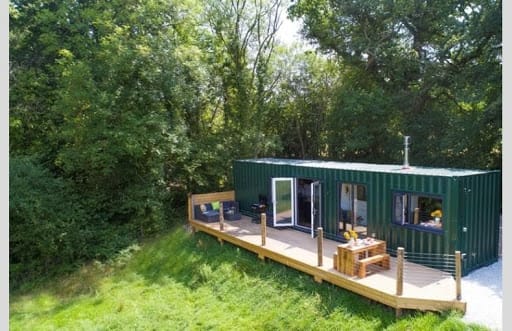 Image credit: Huxham Hideaway
Huxham Hideaway is an adorably bespoke converted shipping container, transformed into an expansive and sociable living space for up to four people – all located in a ten-acre private meadow in Poltimore, Devon.
Welcoming owner Callum designed and converted the previous shipping container himself. The result is a private and delightfully scenic home-from-home, filled with thoughtful touches and little luxuries that will make you feel warm and welcome as soon as you enter.
As you enter the converted shipping container, you'll discover a cosy lounge at the centre of your cabin, furnished with a squishy sofa bed and a warming wood burner. There's also lots of games and books to keep you well entertained. You can even listen to music through the Bluetooth speaker.
There's also a king-size bed, perfect for waking up to views of the distant hills. Plus, the container is home to a refreshing power shower, complimentary toiletries and plenty of soft towels. You'll even find robes and slippers provided for that extra touch of pleasure. This is definitely the perfect place to have a shipping container summer holiday!
Trelan Farm cargo cabin, Flintshire, Wales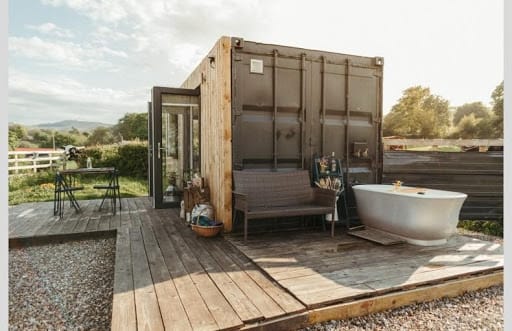 Image Credit: Trelan Farm
Trelan Farm Cargo Cabin is a luxurious container-for-two, complete with a heavenly outdoor bath, surrounded by picture-perfect North Wales countryside.
The cabin is set within a 150-acre farm; a stunningly refurbished, romantic retreat for two. The scene is wonderfully set for rest and relaxation amongst nature at its most glorious, making this a particularly romantic getaway for couples.
Boasting an elegant wood-clad exterior and packed with creative style, you might find it hard to believe that this cosy space was once a shipping container! Decorated in warm tones and flooded with daylight from huge windows, the open-plan layout even features a comfy corner sofa that cleverly converts into a bed when you need it.
Shipping containers are the new summer holidays
So that's our blog on converted shipping container holidays! What do you think about your next vacation location being in a converted shipping container?
If you've been inspired by these converted shipping container holiday homes, then maybe you'd like to build your own?
If so, take a look at our bespoke units or used sale items and get in touch to see what we can do for you.