Ideas from one winning team to another
With people returning to sports as we ease out of all COVID-19 restrictions, the need for new and robust sports clubs has grown. Due to sports being one of the only maintainable hobbies during the lockdown, sports clubs have gained tremendous popularity with a fresh demand for facilities. These might not always be financially attainable, however – which is where our shipping containers come it.
Our versatile containers can be used for a multitude of different things – from office areas to whole holiday spaces. That same versatility also makes them the ideal addition to any sports club that needs new facilities.
Below is our list of inventive yet practical sports club facilities built from shipping containers.
Equipment Storage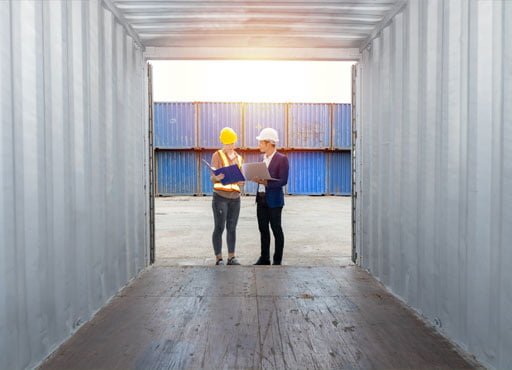 One of the most obvious but practical shipping container ideas for sports clubs is simply using them as storage. Sports equipment can often be bulky, heavy and expensive, so having a secure place to store the equipment when it's not in use is essential.
The high-level security in their solid steel design makes shipping container storage units perfect for keeping your club's expensive equipment from theft and break-ins. Their large capacity also helps with storage for larger equipment, such as basketball hoop stands, gymnastics equipment, and even trampolines. The size of our storage containers has the storage possibilities limitless, as well as convenient and cheap.
Outdoor seating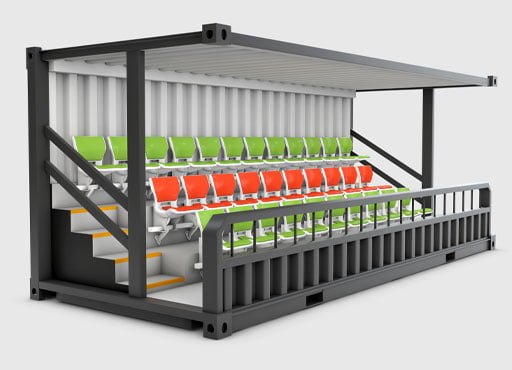 After a year of empty or half-filled stadiums due to COVID, sports centres are now getting back to their total capacity. With a growing need to find a way to comfortably yet affordably seats hundreds or even thousands of sports fans into stadiums, shipping containers offer a novel and creative solution.
Whilst most sports stadium seating can be very costly and is fixed to a location once built, shipping containers are a cheap and ultra-convenient way of having secure and comfortable seating for a more affordable price. The main benefits of shipping container stadium seating however are the portability and flexibility. If extra containers need to be added to a sports field or stadium, they can easily be moved around and adjusted to fit the size of the location.
Shipping containers are also weatherproof, meaning they can be kept outside in training grounds, pitches or stadiums for as long as possible, without worrying about them becoming damaged or breaking due to harsh weather conditions.
Changing rooms and toilets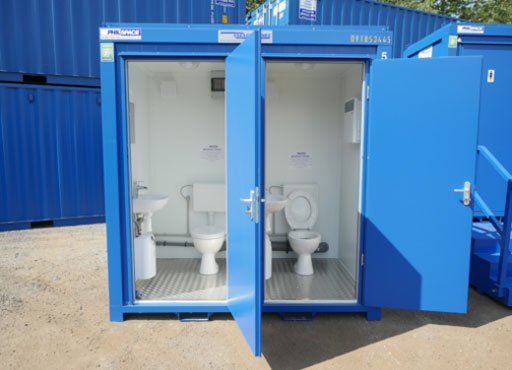 Whether before kickoff, during halftime, at the end of a game, or anywhere in between, changing rooms and toilets are an essential aspect of any sports centre. The main features are that they must be easily accessible and private. Shipping container changing rooms and toilet blocks provide a perfect solution.
Whether inside a sports facility or outside on a pitch, highly secure shipping containers can give the perfect space for comfort and privacy and are often a far cheaper alternative than building a new structure outright. Their weatherproof design also ensures that they can be comfortable in winter, or in an outdoor setting all year round. They can also provide a handy overspill for changing and toilet facilities on days when you find yourself taken by surprise, with more players or spectators attending than you'd maybe first expected!
Canteens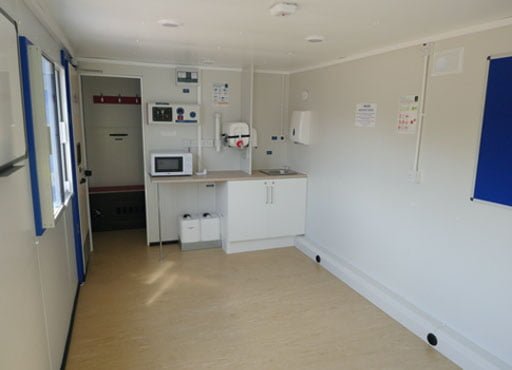 Another one of our favourite shipping container ideas for sports clubs is using them as a canteen or breakout area.
High energy, high-endurance sports always create the need for access to food and drink – and that's just for the spectators! Whether you're partaking in the activities or just enjoying them from afar, storage containers can be the perfect way to get a much-needed pick-me-up.
Shipping container canteens, drink stations and food stores all have their place in a modern sports club. Their weatherproof exterior also makes them a perfect place to sit down for a rest with a drink or have a lunch break during a sports game. So whether it's a place to provide shade on a hot and sunny day, or somewhere to escape the rain on the inevitable harsh wintery ones, shipping containers will provide you a welcome stop to relax and shelter from the elements.
Container solutions for all kinds of sports clubs
At Philspace, we believe shipping containers offer endless possibilities. So whatever your sports centre's needs, we can develop solutions to help provide the equipment and facilities needed – often at a fraction of the cost of typical constructions. Our containers even come in a wide variety of designs and sizes, so they can be chosen to fit a club, stadium or sports hall of any size.
To discuss shipping contains for your sports club, or find out what services we can offer, browse our selection of shipping containers, welfare units, toilet blocks and shower units, or get in touch with us here to see how we can help.
Related links