Places to work, rest and play
It only takes a quick web search to see there are some amazing homes and offices built from shipping containers.
Having already recently looked at container holiday homes you could actually book for a summer getaway, we thought it was about time we featured some of our favourite incredible shipping container office ideas!
"Wait… I can use a shipping container as an office?"
Yep! The boxy dimensions and rigid, durable form of shipping containers make them incredibly well suited to conversion into an office space for both indoor and outdoor use. They're also highly adaptable – you can add partitions, doors, air conditioning and more. All in a pre-built structure innately designed to offer protection.
And because it's a temporary structure, you probably* won't even need planning permission!
*Depending on local authority rules. Always check with your local authority.
Five of our favourite cargo shipping container office designs and ideas
We've detailed how well-suited we feel containers are to creating an office space. But don't just take our word for it! These are five fantastic shipping container office ideas from around the world
Ashdod Port container office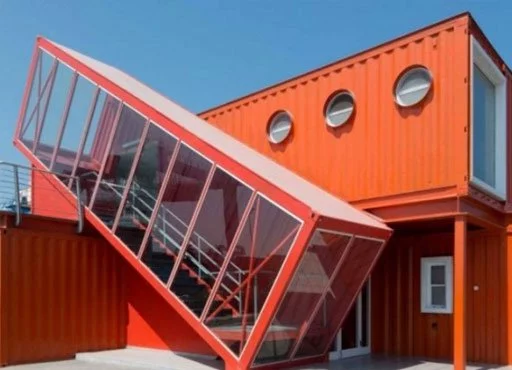 Image credit: Inhabitat
Tel Aviv based Potash Architects pushed the boundaries of convention when they designed this office building for the local port authority. By creatively combining several 20ft and 40ft shipping containers, they were able to create a space that houses an event space, tech rooms, offices and even a balcony.
The centrepiece, of course, is the container angled at 30 degrees which houses the stairs that take you between floors. Certainly one of the most uniquely incredible shipping container office ideas we've seen in a long, long time!
Dark industrial-style garden container office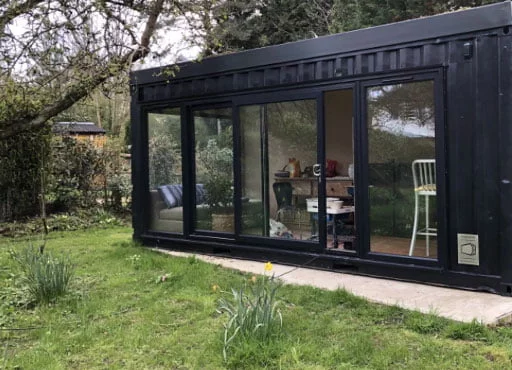 Image credit: Real Homes
From a professional office space to a truly personal one, this moody jet-black shipping container office is a fantastic alternative to a summer house, and definitely fits the aesthetic of a place with a more industrial style.
Designed by UK-based ContainerConversionsDB, It's made of our list of favourite cargo shipping container office designs and ideas because of how much versatility it displays. With a sofa at one end, the desk in the middle and raised table and chairs at the other end, it's much more than an office – it's a mini garden getaway and outdoor guest room, all in one!
Agency 99c meeting room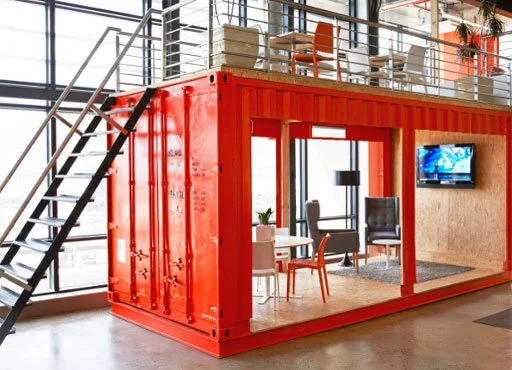 Image credit: Design Curial
The third of our five fantastic shipping container office ideas goes back to the professional office – but with a completely different spin to Ashdod Port. Where that saw containers welded together to form a single outside structure, this stylish effort from Cape Town based architectural practice In House places a single shipping container inside a high-rise office building to create a brilliantly bespoke meeting space.
It's the little details we love about this, from the TV on the wall allowing people to project presentations, to the fact that they've used the roof to create an extra open-plan meeting or lunch area. They've even kept the rugged look and feel of the container's roots, with the original shipping lettering still present on the outside.
Modified wood-clad garden office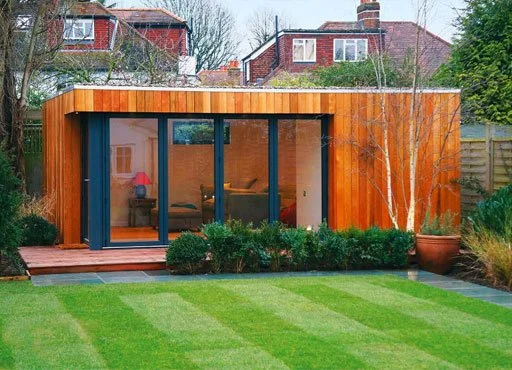 Image credit: MobilBox
Our fourth incredible shipping container office idea shows how stylish and un-container-like you can make a shipping container appear by adding treated wooden cladding, and cutting away one section of the side to add folding glass doors.
Indeed, it's only the tell-tale dimensions that give away this design by MobilBox as a shipping container conversion at all. But what a conversion it is! One that's stylish and adaptable enough to be used as an office or an outdoor living room. In fact, we wouldn't even be surprised to find something like it available to rent over at Airbnb. Would you stay in it given the chance?
Flowers in the Garden by Eu Jin Lim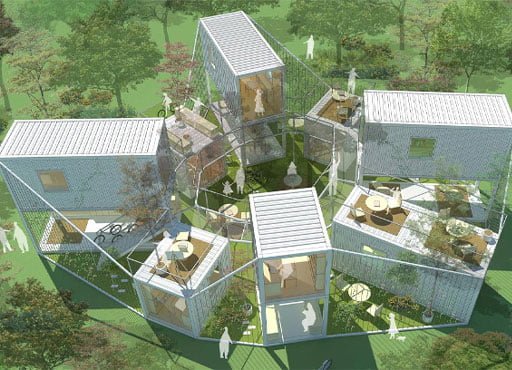 Image credit: Yanko Design
Okay, we've cheated a little for the last of our five fantastic shipping container office ideas. This isn't a pre-existing single container office – it's an incredible piece of concept work designed to be part garden and part communal workspace.
Entered into Capsa Containers' Design for Tomorrow competition in 2020, Malaysian designer EU Jin Lim's effort may have finished second there, but we think it's truly one of the most astonishing uses of shipping containers we've ever seen.
Intentionally conceived to blur the boundaries between traditional office settings and the natural world, it suggests a greener future for office work where people can collaborate on high-profile projects while living in a way that's more at one with nature. For our money, it might just be the most incredible shipping container office idea of the lot.
Considering a shipping container office of your own?
So that's our list of five fantastic shipping container office ideas. Which one is your favourite? Let us know over on our Facebook page.
At Philspace, we have a wide selection of new and used shipping containers that you can use as the basis for your own bespoke conversion.
Or, if you're looking to work with someone who can help you modify the shipping container into your dream office, then get in touch – we'll be happy to help.
Related links