Modular Building in Buckinghamshire
We were asked back in the Autumn of 2019 to assist a customer in Buckinghamshire with the design, manufacture and installation of a modular building.
All involved parties worked together to design, build, deliver and install the 4 bay modular office and welfare space complete with kitchen, toilets, showers and a meeting space.  It was a pleasure to be on site on the day the units were delivered to see the completed building constructed.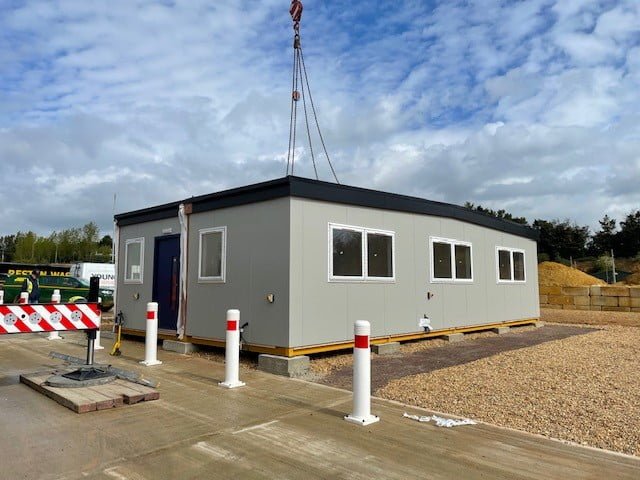 Modular buildings are manufactured in sections away from site before being delivered to the desired location and can be temporary or permanent.  Once in place, the units are linked together to create a complete building.  The modular units can be used to create many different configurations including being placed side by side or stacked up.
Modular units can be constructed using a variety of different materials including plastic coated steel (plastisol) and thermowood.  Many features can be installed such as windows, power and water supplies, sewage pipes, IT provisions, air conditioning/heating and more.  Some of these features can be installed in the units before delivery to site which cuts down on assembly time on site.
If you would like advice regarding a modular building for your site, give our knowledgeable Team a call on 023 8022 3333.