Shipping containers make for strong, reliable, ready-made and above all affordable building structures – which can make them absolutely perfect for a school or training establishment that needs somewhere safe, warm and dry to teach students in a hurry.
Here we'll look at five of our favourite examples of schooling in a shipping container, from right across the world.
But first, it's worth addressing one of the key points that can make shipping container classrooms so attractive…
Do you need planning permission for shipping containers?
In normal circumstances – and depending on the nature of the build – you don't need planning permission* for placing modified shipping containers. This is because they're typically classified as temporary structures – the same exemption that applies to caravans and mobile homes. That means schools and other organisations can set up robust training centres without submitting to a lengthy and complicated building approvals process.
So if you're considering a container classroom for your school, college, university or training base, why not take inspiration from the school shipping container conversions below!
*Always check with your local authority
This colourful container learning space in Chhapra, Bihar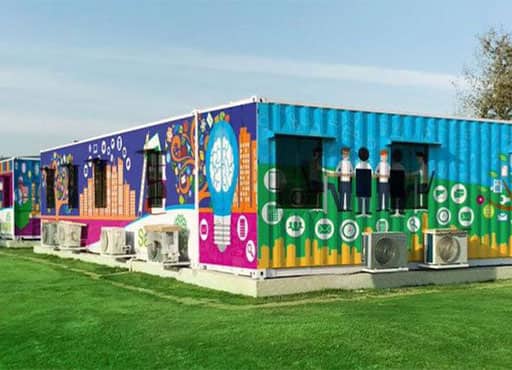 Image credit: Homegrown.co
India is the world's second largest country by population, but ranks only 92 out of 145 countries for education, and is currently in the midst of a poverty crisis made worse by the global Coronavirus pandemic. Thankfully, It's also home to people like Divya Jain, co-founder of Safeducate – one of the country's largest training, skilling and consulting firms.
In 2018, Jain and Safeducate had the idea to use shipping containers to offer adult development programs to school dropouts and underprivileged members of society.  From their colourful container school in Chhapbra, they offer courses in the IT, computing and logistics industries, amongst others to offer those people a better footing in difficult times. They also partnered with India's National Skill Development Corporation to take the project to the furthest reaches of the country.
These repurposed container classrooms in Cape Town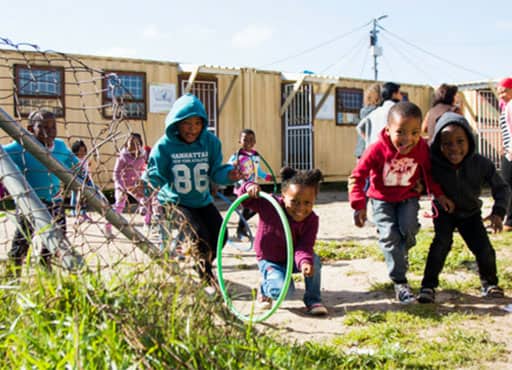 Image credit: One.org
The second of our shipping container conversions for schools comes from South Africa, where schools in remote areas are often overcrowded and underfunded.
To combat this, non-profit organisation Breadline Africa repurposed shipping containers in sunny Cape Town and turned them into classrooms. The units were adapted by adding windows, burglar guards, and even a fully fitted kitchen including indoor gas burners and ventilation, so the kids can have meals cooked for them during lunch time!
It's not just classrooms, either – one has become a library filled with books, cushions, reading benches and more besides. All in the name of offering underprivileged children a better start, and a better chance at a better life.
This temporary container class block in Daegu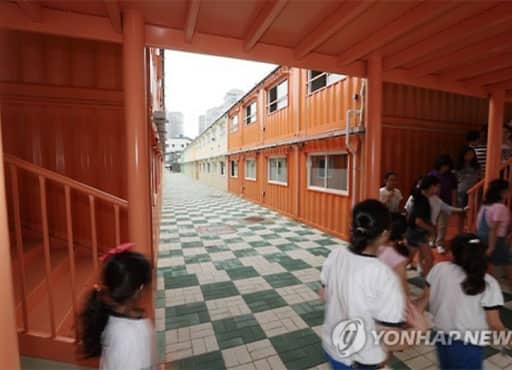 Image credit: Korea Bizwire
For our third example of shipping containers for schools, we're heading to South Korea and the Olympic city of Daegu.
Back in 2015, the city's Dongcheon Elementary School was found to be unsafe, and the container blocks you see above were the temporary answer. When the school closed for summer, the impressive two-tier metal structure took shape on the school's playground, and by the end of the summer it was ready to host classes for over a thousand students!
We've included this in our list of shipping container school suggestions because of the sheer size and scope of the undertaking. We've seen many examples of single-box classrooms over the years, and even some multi-level constructions with double figures of containers. But containers serving an entire school really is a feat of engineering that speaks to the versatility the humble shipping container can offer.
Visserhok container classroom in Cape Town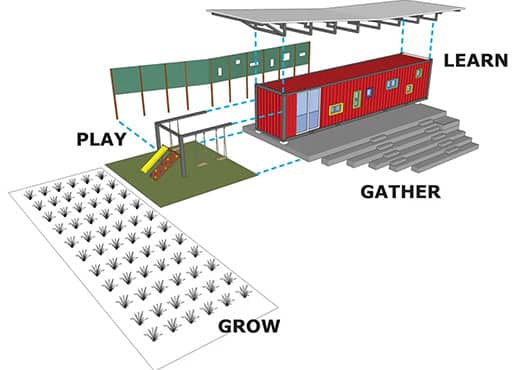 Image credit: Design Boom
Speaking of versatility, our fourth shipping containers conversion for schools takes us back to South Africa for an altogether different type of project to the Breadline Africa one above.
The visserhok container classroom showed that designers Tsai Design Studio thought about much more than just a teaching space when they adapted their 14 foot shipping container. They also considered the children's play area, a raised stair space where the kids could gather, and even a garden where they could learn about growing food!
Add a roof shelter to protect the structure from the elements, and colourful cut-out windows that ventilate the structure in the Cape Town heat while giving the bright red building an air of playfulness, and this is a truly unique way of using shipping containers for schools which we absolutely love.
Morpeth school container unit in London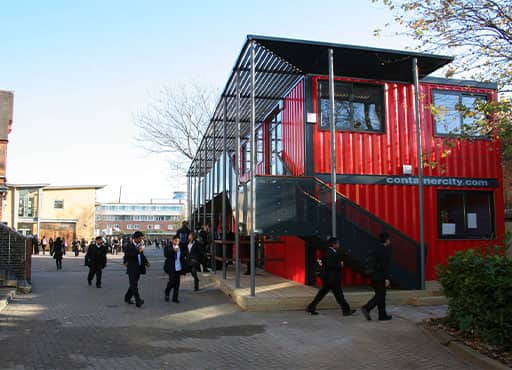 Image credit: Container City
We end our trip around the world of shipping container school suggestions by landing back home in blighty and heading to Morpeth school in London.
Here, pupils can learn in a 240m2 two-floor space built entirely from repurposed shipping containers!
Designed by the firm behind the incredible Container City on London's Trinity Buoy Wharf, the Morpeth School project was, like the Daegu solution above, craned in during a school holiday. That meant pupils arrived back at school after their half term break to find a brand-new, bright red, purpose-built structure ready to go. It must have been quite a shock! But that's something we especially love about shipping container design and logistics – they're consistently surprising, in the best possible way.
Do you need a shipping container for your school, college or training centre?
At Philspace, we offer custom builds of shipping containers, designed to suit your needs and built to your specifications.
Take a look at our bespoke units page or get in touch today to find out how a shipping container could work for you.
Related links