Can you make a greenhouse out of a shipping container?
If you're green-fingered and concerned about the environment, converting a shipping container into a greenhouse can be an ideal passion project.
Best of all, there are a variety of different ways to go about it, depending on your creative flair, your budget, the land available, and the number of containers you have to hand – as the examples below show!
But before we look at different approaches to turning a shipping container into a greenhouse, it's important to establish… well… why would you want to?
What are the benefits of a greenhouse shipping container?
They may not be as glamorous as a glorious poolside summer getaway, as practical as a container office or as prolific at plant-growing as a fully-fledged container farm, but greenhouses offer gardening enthusiasts an attractive alternative approach to traditional glass panel greenhouses.
The main benefits of a greenhouse shipping container are the strength and versatility of the structure. While glass panel greenhouses are by their very nature vulnerable to breakages and rooted in one place, converting a shipping container into a greenhouse gives you an outbuilding that's at least partially solid steel, with the flexibility to build upwards onto a second level, In many cases, a converted container greenhouse can also be moved between locations. So, no starting again if you decide to up sticks for a fresh challenge elsewhere!
That being said, not all shipping container greenhouses follow the same approach, as you'll see in the following four wildly different examples.
Urban farm unit by Damian Chivialle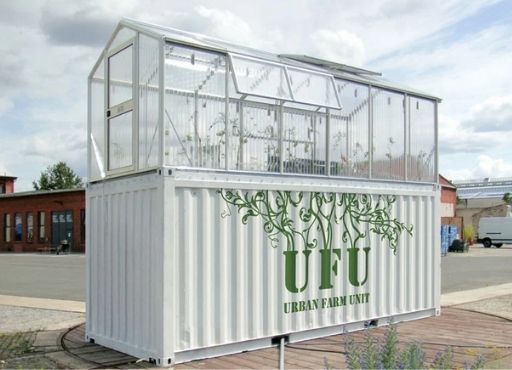 Image credit: Design Boom
If you were wondering "can you put a green roof on a shipping container?" then this design proves unequivocally that the answer is yes!
Spread across two floors with a staircase through the middle, the really smart part about converting a shipping container into a greenhouse in this manner is how much it maximises the footprint. A ground floor aquaponics system actually feeds the plants downstairs and up, meaning minimal maintenance for the owner, and a pretty prolific yield from crops all year round.
Rooftop greenhouse at Seven Hills High School, Sydney
The actual design of the container in this video is a lot like the one above it. It's a single 20ft unit, with a greenhouse roof added on top, and a set of stairs added that takes you up to the second floor.
However, we've included it because of the setting and the different approaches taken to using the structure. If you're looking for inspiration, the video above shows how to make a greenhouse from a shipping container that's suitable for a school, while bringing life and colour to your surroundings,
With plants growing in trays on the walls also being fed by the aquaponics system inside, and cherry tomatoes growing all year-round on the upper floor, this really does feel like two or three greenhouses in one.
Pop-up mini farmery shop in Durham, North Carolina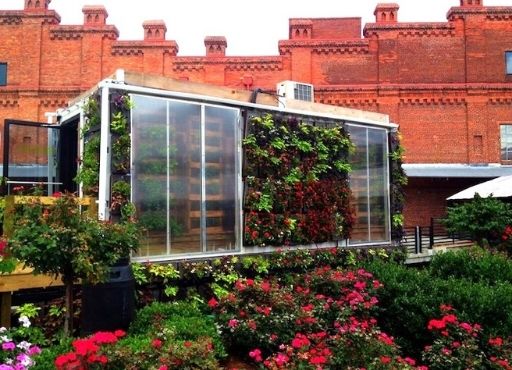 Image credit: Inhabitat
From two solid steel structures with a glass roof on top, we move to a converted shipping container greenhouse that's about as close to a traditional greenhouse as possible.
Located just in from America's east coast, this glass panel farmer's shop on the American Tobacco campus is covered in living walls that give a home to all manner of plants. Herbs and other greens are grown on the walls by facing them outwards towards the sun, then the walls are flipped around to let shoppers harvest their own produce fresh from the soil. On the roof meanwhile the shop grows tomatoes, sweet potatoes and even flowers, which are then brought downstairs and displayed to be sold. There's even an irrigation system further back that enables them to grow mushrooms!
Part greenhouse and part retail enterprise, this is a great example of turning a shipping container into a greenhouse for commercial purposes.
Solar-powered shipping container cabin concept with added greenhouse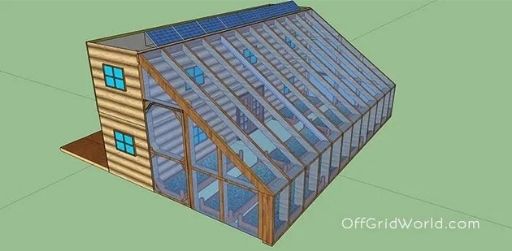 Image credit: Off Grid World
Our final example of a converted container greenhouse is a little different to the others. It shows how to make a greenhouse from shipping containers (plural), along with a host of timber and glass panelling.
In truth, this concept by Eric at Off Grid World is something of a middle ground between the kinds of shipping container homes we've blogged about before, and a more typical greenhouse. It's also the most sustainable design, given that it's built purposely to have someone live in the cabin and grow their own greenery – all entirely off-grid.
Offering a large living area across a small footprint and a growing area large enough to produce all the fresh food you could possibly eat, this approach to converting a shipping container into a greenhouse maybe loses the portability of the other options, but makes up for it with an entirely integrated approach to green-fingered living.
What kind of shipping container greenhouse would you make?
At Philspace, we've helped customers solve all kinds of problems with shipping containers – and we'd be delighted to help you tackle your own greenhouse conversion conundrum.
Take a look at the container models we stock to choose the one that's right for your project, then get in touch to talk costings and logistics.
Cover image credit: Pinterest
Related links