From office space to salons, we have shown that shipping containers are highly versatile facilities that do so much more than just store your items. But have you ever wondered "can you turn a shipping container into a workshop?"
Whether residential or commercial, the secure, portable, and cost-effective nature of shipping containers means that they provide great solutions to workshop requirements without compromising on space or quality.
To help you find out how you can use shipping containers to help with your workshop, here are our five cool container workshop conversion ideas.
Garages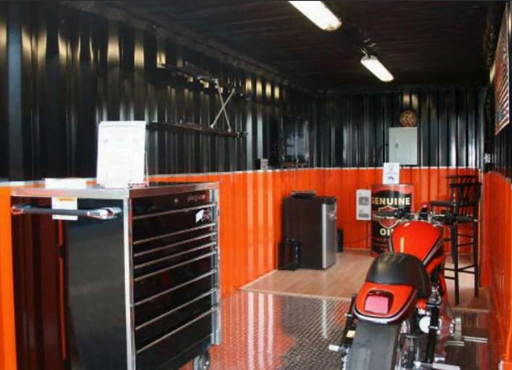 Image credit: Discover Containers
Whether you are looking to tinker around with a beloved antique car or are running a full-time business in customising vehicles, it can be tricky finding the place to work that's both secure and spacious enough to house your many tools.
A shipping container is a perfect solution to this. The easy installation and portable structure mean that you can have a fully functioning garage installed quickly, with the space to keep all of your tools and spare parts in.
This impressive Harley Davidson themed motorcycle garage is one of our favourite container workshop conversion ideas. It combines style and convenience, showing that an amazing vehicle workshop can be set up anywhere, customised in whatever style you want.
Repair Shops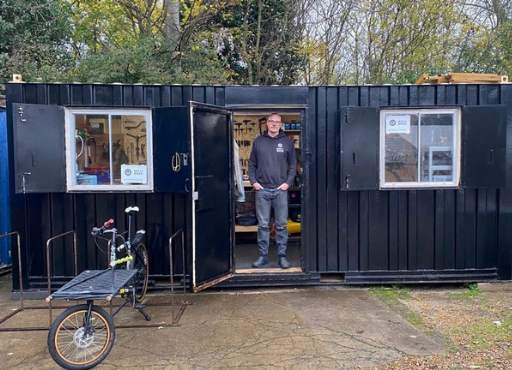 Image credit: MyLondon
This shipping container bike repair workshop shows that you don't need to rent or buy expensive business space to have a highly functional work environment. Rory Thomson, a former theatre actor, has shown how easy it is to transform your shipping container space by setting up his own bike repair shop business.
Repair shop workstations are among the most common industries for using shipping containers, owing to their easy installation, ample space for repair equipment, and portable structure. This is one of the best we've seen – hence it makes our list of top five shipping container workshop conversion ideas!
Tool shed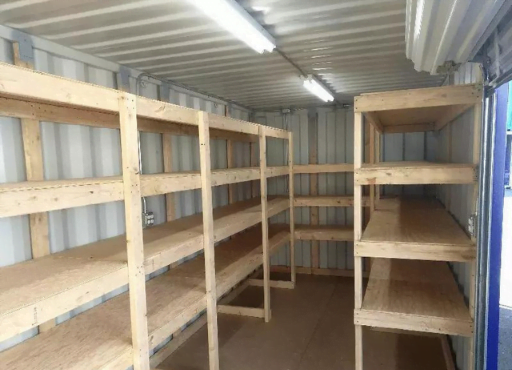 Image Credit: SeattleTacomaContainers
One of the most efficient but straightforward ways to use a shipping container as a workshop is as a space to store all of your work tools, no matter the industry. Due to a container's high security, you can rest easy knowing all of your expensive work equipment is essentially thief-proof, while still giving you the capacity for myriad shelving units and storage cabinets.
This Seattle-based shipping container company demonstrates the generous space shipping containers offer.  The fact you have easy access to all of your equipment, whatever your work project, makes this one of the coolest container workshop conversion ideas you'll find.
Woodwork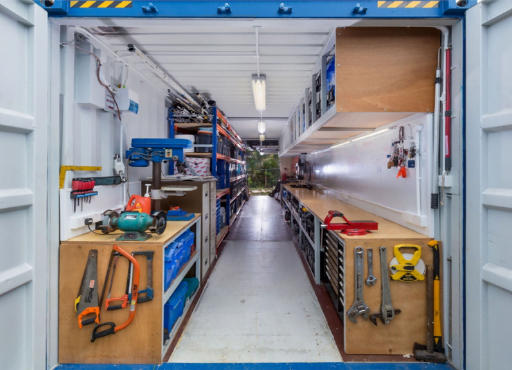 Image Credit: 360Connect
Woodwork takes up a lot of room and needs a space to ensure that all materials are kept safe and stored in the correct environment. With a wide array of tools being necessary and proper ventilation and electrical equipment also essential, finding the right workspace to operate a woodwork business can be difficult.
Enter this stylish woodworking space from 360Connect. It shows exactly how shipping containers can help provide an accessible, highly functional space for woodwork. Being highly weather-resistant, this cool container workshop conversion keeps your work safe from being compromised by harsh weather.
Art studios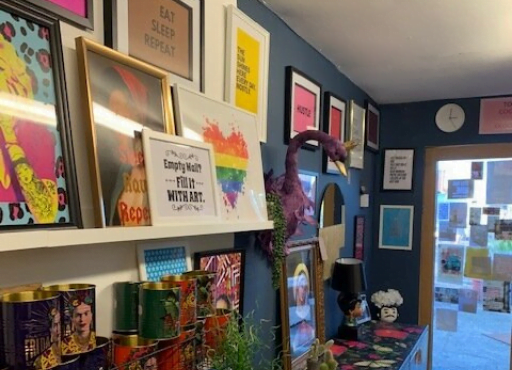 Image Credit: Shipping Container Studios
Shipping container workshops don't just have to be industrial workspaces. Being dry, secure and having access to electricity also makes them great spaces for anyone who wants to get creative.
If you are looking for a space to try out a whole host of hobbies that require room for materials, a shipping container is a great way to avoid renting studio space. From painting to sewing to pottery, the possibilities to get stuck in and try something new are endless.
This 'Drab to Fab' cool container workshop conversion is full of arts and crafts, turning unloved old pieces of furniture into stylish and treasured possessions. This Cardiff based container is the perfect example of how a shipping container can be used to jazz up and upcycle any DIY project and be a great place to have fun and learn a new skill.