With their spaciousness and weather resistance, shipping containers come into their own during winter. But, while their practical uses, like construction and self-storage capabilities, are well known, we think shipping containers' more fun uses often fly under the radar.
So, as Christmas approaches, we thought we'd look at festive ways to use shipping containers.
A Christmas Float
A Christmas parade is a key winter highlight in dozens of communities across the UK. Whether it's to celebrate the switching on of Christmas lights, or Santa leading a present-laden procession, it's an excellent opportunity for the whole neighbourhood to come together.
A fun, festive idea for a shipping container could be to use it as the base for a Christmas float! The simplistic nature and adaptability of the container can provide a blank canvas for any holiday design.
From a depiction of Santa's workshop or cosy fireside to a more traditional nativity scene, a float at your local Christmas parade is a fun, festive idea for a shipping container that maximises its durability and weather resistance benefits.
A Christmas Party Venue
When considering a venue for your Christmas party, a shipping container might not be the first thing that springs to mind. But using containers as hosting locations is more popular than you might think.
Across the country, from Drift Cliff Edge Café on the Scottish borders to The Pizza Cabina in Cornwall, restauranteurs are embracing the versatility and ubiquity of shipping containers as the bases for eateries.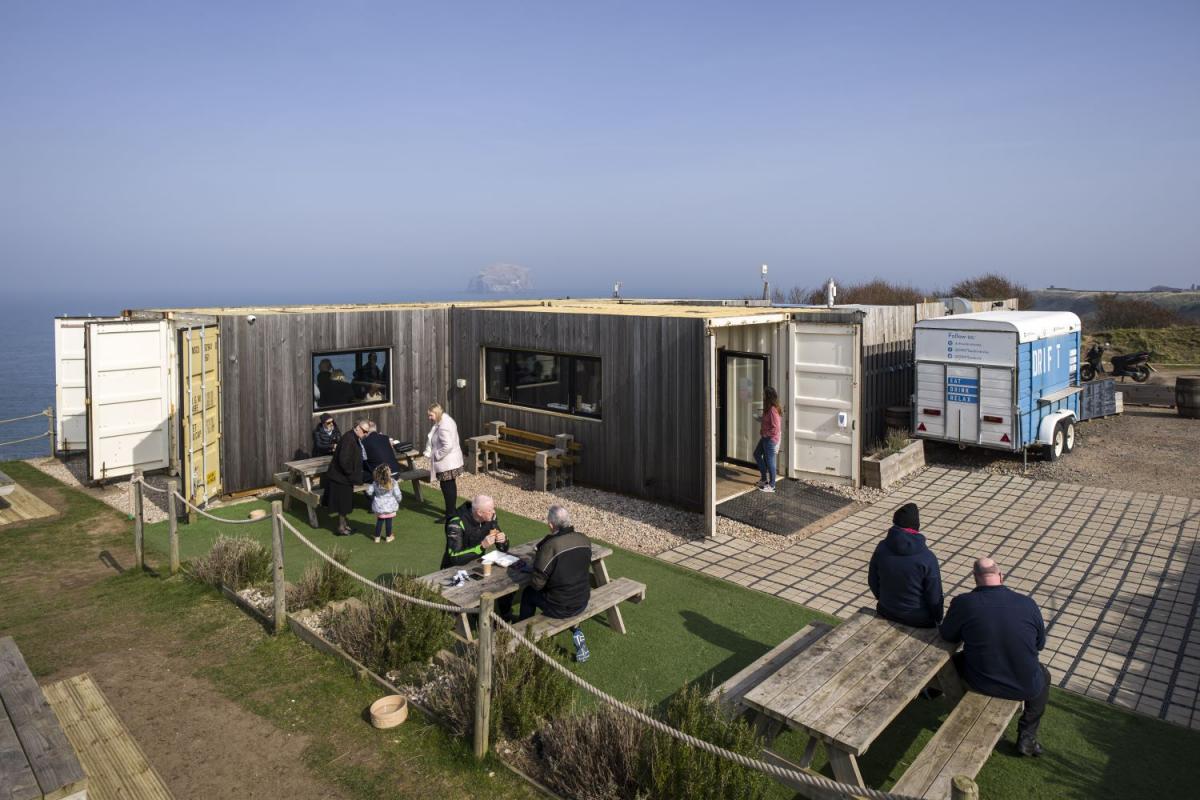 Picture Credit: The Extra Mile
So, whether it's a work Christmas dinner or an intimate family gathering, why not consider hosting your festive get-together in a container-based building? With the proper customisation and individualistic flair, a cosy holiday party venue could be one of the most festive and creative ways to use shipping containers.
Santa's Grotto
No Christmas fair is complete without a visit to Santa's grotto. If you saw our PlayBox article, you'll already be aware of the excellent, child-focused uses of containers, and we think this is even more relevant at Christmas.
Their customisability makes this stand out as one of the most fun, festive ideas for shipping containers. With the variety in specifications and dimensions, there is a container to fit any environment. The ability to clad the exterior walls with a rustic log-effect design or a snowy igloo affair or decorate it with Christmas lights and even a log burner are just a few examples of how you could adapt a container to be the perfect grotto.
Being so easy to insulate and keep secure, you could set your grotto well in advance, reducing last-minute organisational stresses.
Advent Calendar
This suggestion might seem a little surprising, but an advent calendar is a fun, festive idea for shipping containers that has been done before and with great success!
As part of their holiday giveaway in 2014, the Ontario Toyota Dealers Association used shipping containers to build an advent calendar over 55 feet tall to grant Christmas surprises through its Wishmaker campaign.
Locals were encouraged to nominate people deserving of a special festive gift, a selection of whom were awarded daily prizes ranging from laptops and mobile phones to Disney World tickets.
While it might be a large-scale operation, a shipping container advent calendar is a great way to bring the community together at this special time of year.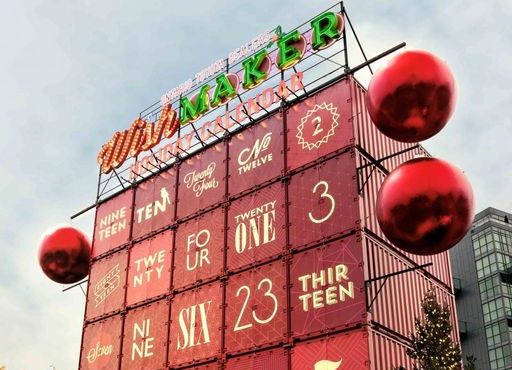 Picture Credit: Trendhunter
A Christmas Present that's Outside the Box
The adaptability of shipping containers makes them an excellent basis for a customisable Christmas gift for a loved one.
Perhaps they've mentioned they'd like a new kitchen or office space? Maybe a potting shed or greenhouse for the spring?
Whatever their preference, a shipping container is a great way to give the person you love a truly unique Christmas gift. And, with the openness and versatility of a container, you can customise the space down to the last inch, making sure every detail is perfect for that special someone.
Christmas Storage
It's true that many items we love to break out over the holidays often spend most of the year in storage. However, in the post-Christmas period, we can sometimes feel over faced by the sheer volume of festive decorations, trees and knickknacks we've accumulated.
That's why storage for your lights, tinsel, baubles and other odds and ends is a great festive use for shipping containers. Our containers come in a wide range of sizes, meaning we'll definitely have the right one for you.
And, with their anti-condensation design, a security lockbox, and CISA side level padlock supplied as standard, they provide a great way to keep your Christmas belongings safe and in the best possible condition.

Want to make the most of a container-based Christmas?
If the ideas in this article woke the festive cheer in you, please get in touch with our team to see how we can help make your Christmas wish. They can assist you in working out which specification of container you need and advise you on the best way to carry out your holiday plans.
For more innovative ideas on the uses of shipping containers, check out the posts below.
Related Posts: