A cooking space with a difference!
The kitchen is often called the heart of the home, so if you're looking at a renovation project, it's a space you'll want to pay a lot of attention to getting just right. However, a kitchen can also be the engine room of a food service business, while an outdoor kitchen can be the perfect place to entertain in the summer months!
Here, we'll get you inspired for the warmer weather by presenting some of our favourite shipping container kitchen concepts for summer.
First, however, we'll answer a common question on building legalities…
"Do I need permission to put storage containers on my land?"
Typically, no. While different authorities have different specific rules, in general shipping containers are classed as temporary structures and don't require planning permission. Furthermore, building code states that people can place extensions on their property (conservatories being the classic example) without requiring planning permission – as long as it no wider than six metres in a terraced property, or eight metres if you're lucky enough to own a detached home.
In short, then: check with your local council first. But realistically, turning your shipping container into a summer kitchen shouldn't be too much of an issue where the legal side is concerned.
Three super summer shipping container kitchen concepts
1. A shipping container kitchen-diner extension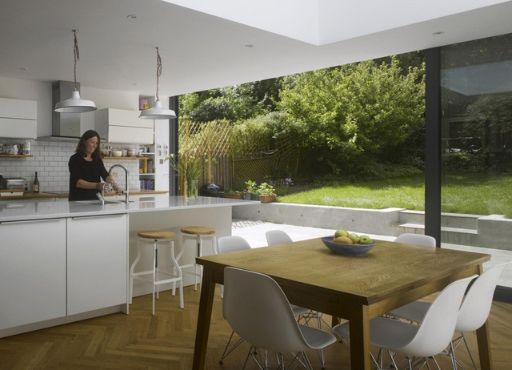 Image credits: Home Design Lover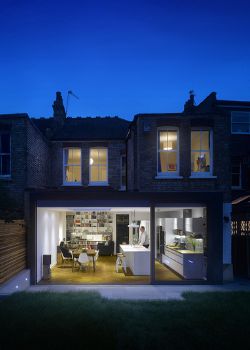 The first of our summer shipping container kitchen ideas takes inspiration from this incredible extension by Home Design Lover.
This team of talented architects and builders have taken a brief to extend a terraced house in London and used a shipping container to create the most amazing and modern-feeling kitchen-diner.
As you can see, it has everything you could ever want in such a space. In particular, the glass panelling added to the side of the shipping container creates a gorgeously sun-drenched opening onto the property's garden, while opening up the home's inside space immeasurably at the same time.
2. A shipping container BBQ Zone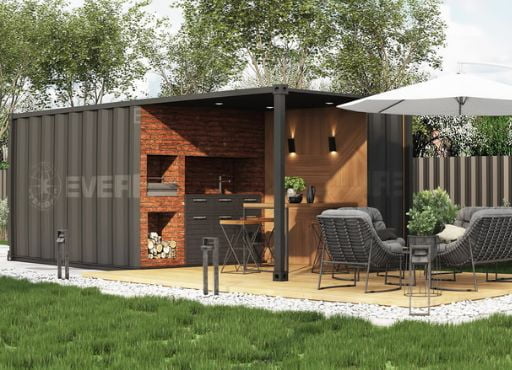 Image credit: Design Studio Panda
Need an outdoor space where you cook up a storm, soak up the sun, and host for large groups of friends and family? You could definitely do worse than this stylishly put-together BBQ zone.
Designed by Ukrainian firm Design Studio Panda, it fuses an industrial-feeling darker shipping container with rustic brick and wooden cladding for an incredibly warm-but-modern finish.
The conversion itself removes half of the container box to create a sheltered eating space with raised table and chairs, while giving enough room for drawers, a sink, and of course the BBQ itself. There's even space for firewood!
Placed next to a cosy garden lounging area beneath a big parasol, this is easily one of our favourite shipping container kitchen concepts for summer we've seen in a long, long time. How would you make use of it?
3. A complete pop-up shipping container restaurant
The third and final of our summer shipping container kitchen concepts takes the word 'concept' and runs with it.
Designed by Chinese company Element Space Inc, this concept places the food prep area in a central island within a 20ft container, with a slide-out payment kiosk at the end and space for seating at tables on the longer sides.
What makes it one of the best summer shipping container kitchen ideas we've seen is that it maximises the security and modular structure that shipping containers are famed for. At the end of the workday, you can simply close it up back into its original boxy shape, then open it all out again in no time the next day, ready for another day's fabulous food service. And because it creates such a funky pop-up eatery, it's fabulous for chefs, customer service staff, and foodies alike!
Considering a container kitchen conversion?
Here at Philspace, we're well placed to help you with whatever kind of container conversion you're thinking of.
Take a look at our stocked container units and get in touch to find out how we can support your project.
Cover image credit: Ebay
Related links