With summer in full swing, spending time in the garden with friends and family is a must when the weather is nice. If you fancy giving gardening a go or want to sit outside and enjoy the sunshine, having the space and resources to do that can sometimes be a struggle.
While garden sheds and summer houses are great additions to any garden, they can often be expensive and not very secure. Shipping containers are the perfect way to maximise your garden space without the need for long installation times and also can be adapted to suit whatever design and style you want your garden to have.
To show how great this can look, we have compiled a list of the most seamless shipping container garden installations to help you get inspired for your garden this year. Read on to see them!
Chelsea flower show garden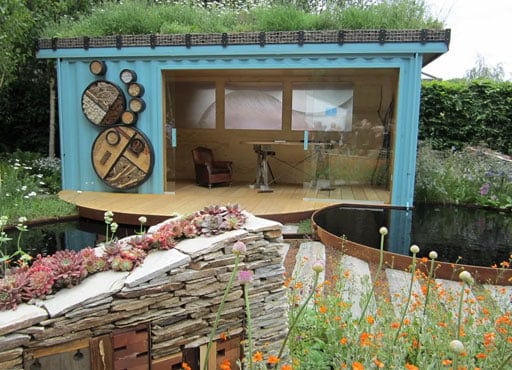 Image credit: Garden Propaganda
This stunning outdoor shipping container space showcased at the 2011 Chelsea Flower Show perfectly blends practicality and style. Designed to be conscious of the natural space, the container garden installation would make an amazing addition to any home, looking sleek and elegant and serving as a great place to spend time outside.
It is also a wonderful addition for the local wildlife in your garden, with the added features of birdboxes, bee hotels and nesting spots to ensure all the animals can enjoy the benefit of it too. The green roof also helps blend into the surroundings, making the entire space feel natural, along with a pond area to help cool down in higher temperatures.
All green storage unit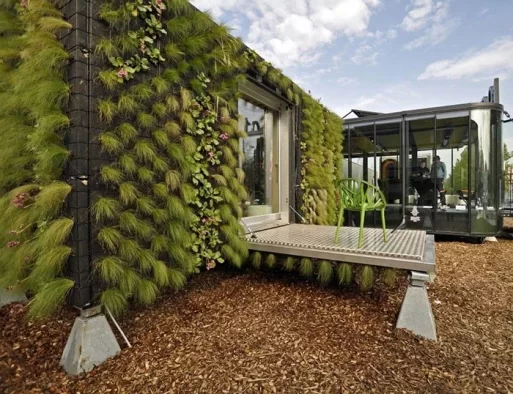 Image credit: Green Box Containers
If you want a place to relax and socialise that blends into your garden, look no further than this stunning shipping container garden installation!
With greenery literally growing from the walls, this shipping container garden structure truly looks like part of the outdoor space. It even has an area for seating to relax in the summer, making this is the perfect container for wildlife experts to feel close to nature, while still having room to relax beneath shelter should the summer showers take hold!
Planting flowers and plants in and around container garden installations allows for a design that doesn't compromise on natural beauty and looks great in all seasons.
Shipping container potting shed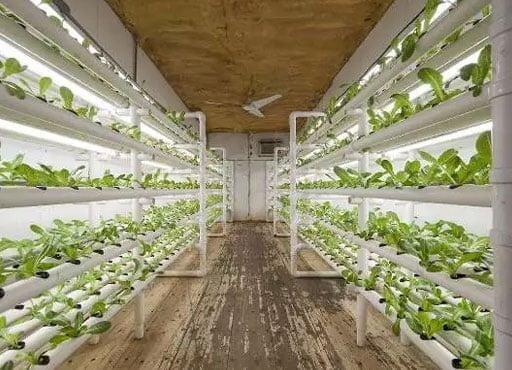 Image credit: My Garden and Greenhouse
Shipping container garden installations have boomed in the last few years, with more people using the space to grow their plants. But instead of having shipping containers as features of your garden, why not turn them into shipping container gardens in their own right?
Shelved shipping containers are an efficient way of growing vegetables, herbs and flowers all year round, without external weather conditions. With electrical power, the plants can be kept at ambient temperature and harvested as and when possible, making gardening a breeze without using precious land space in your garden.
These outdoor shipping container spaces also require far less square footage than an allotment or a garden and can house a vast amount of plants through the clever shelving system, meaning that you can enjoy gardening and growing here all year round.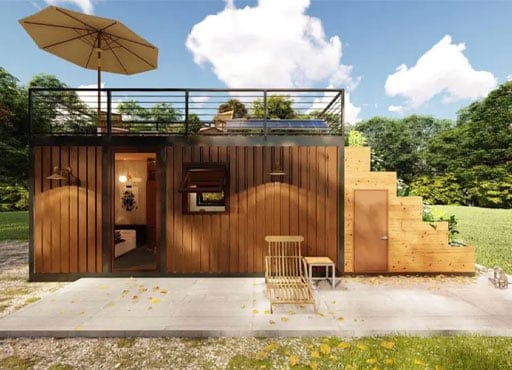 Image credit: Tiny Houses
One of the most simple and stylish garden shipping container installations we've found boasts two floors! This beautiful container conversion has combined the usage of having a cosy bedroom to sleep in with a stunning rooftop garden.
Converting your shipping container into outside accommodation is ideal when having overnight guests, with the added roof space to have a meal, relax, and enjoy a great view of your garden. This clever design has the addition of wooden stairs takes it to a new level and provides everything you would need for a relaxing evening in the garden.
Shipping container man cave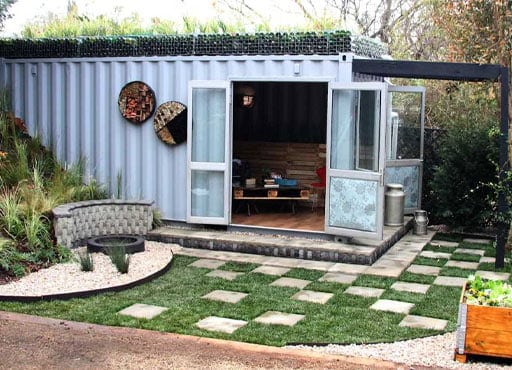 Image credit: Discover Containers on Pinterest
This beautifully-designed Shipping container garden installation brilliantly blends into its outdoor surroundings to bring the perfect mix of indoor and outdoor places. We love how this entire shipping container garden is placed, with concrete flooring merging into the grassy hill.
Considering a shipping container garden installation of your own?
If you're looking for a secure, secure outdoor garden facility with quick installation, get in touch with us to get yourself one of our multi-use shipping containers.
Cover image credit: Tiny Houses
Related links