Watch box to box… in a box made out of a box!
With the women's Euro 2022 triumphantly in the books and the Premier League season back in full swing, we're turning our attention to the next big international tournament on the horizon.
This November marks the Middle East's first opportunity at hosting the world's greatest football fiesta, and one thing we're particularly excited to see, given our business, is the much talked about innovative use of shipping containers for the 2022 World Cup!
How shipping containers are being used in Qatar 2022
We've covered a lot of ambitious shipping container constructions on our blog, over the years, from summer getaways to garden installations and even whole hotels or blocks of flats. However, how shipping containers are being used at Qatar 2022 might be the most ambitious of the lot!
Of all the stadiums being purpose-built by the Qatari government for this World Cup, Stadium 974 in the port city of Doha is by far and away the most unique and forward-thinking.
What is stadium 974 made of?
Stadium 974 is made from a steel framework housing 974 steel shipping containers. The first ever construction of its kind to this scale anywhere in the world, the 40,000 seater stadium is the brainchild of Fenwick Iribarren Architects and inspired by the port region's worldwide trade and seafaring.
However, the real genius of stadium 974 is that it's the world's first fully demountable stadium, designed to be a temporary structure that can be broken down, with its constituent parts used for future projects. (More detail on that a little later).
Why is it called 974 stadium?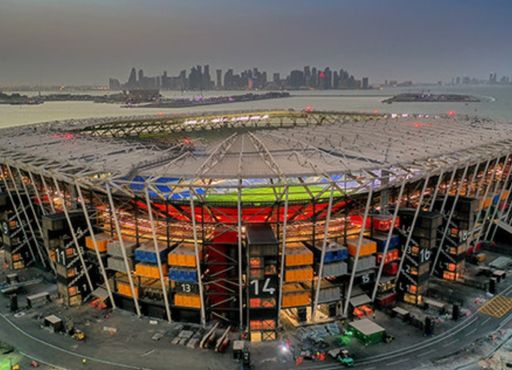 Image credit: Qatar 2022
As you may have guessed, the 974 in the stadium's name refers in part to the 974 shipping containers used in its construction. However, 974 is also the international dialling code for Qatar. In some ways, then, this innovative use of shipping containers for 2022 World Cup is very much 'Qatar stadium' – that is, until the end of the tournament it was purpose-built to celebrate.
What will happen to stadium 974 after World Cup 2022?
From a distance, Stadium 974 looks like it's made from individual building blocks, almost like colourful Lego – and that's for a reason. As we mentioned above, the stadium is fully demountable – its individual components will be removed post-tournament and used for construction in other sporting projects right across the globe.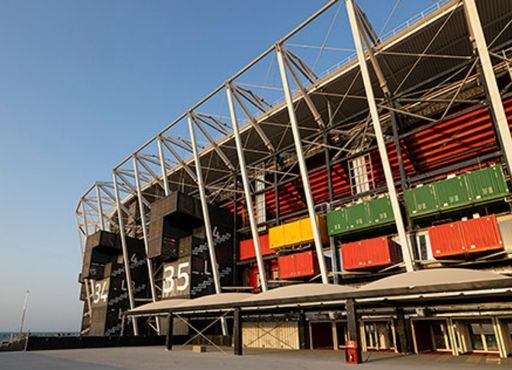 Image credit: Qatar 2022
In that way, this almost crazy way shipping containers are being used at Qatar 2022 represents a step-change in sustainable stadium design for World Cups of the future. No longer will host countries have to spend billions building giant venues that sit dormant long after the show has closed. Instead, they can follow Qatar's example, and this innovative use of shipping containers for 2022 World Cup can lead to a more renewable way of hosting major sporting events.
Do you need an innovative shipping container construction?
Here at Philspace we may not have taken on any projects quite like the crazy ways shipping containers are being used at Qatar 2022 – but we are very much equipped to help you with bespoke shipping container conversions for your business or home project.
See our range of shipping containers or get in touch to find out how we can help.
Need some inspiration for creative uses for shipping containers? Take a look at our blogs below!
Cover image credit: Wilson Center
Related Links