Previously we've spoken about interesting architectural uses for shipping containers, including playground installations and kitchen conversions. But what about shipping containers as homes?
According to Business Wire, last year saw the global container house market grow in value by almost $5 billion, a rise of 10.1%. Business Wire explained the growth in value and popularity due to space constraint issues resulting in increased housing prices in many major cities worldwide.
Because of their rising popularity and wide use, we thought we'd look at a few examples of how people use shipping containers as homes. What is that that inspired them? How successful has their project been? First, let's explore the benefits of using shipping containers for homes.
Reasons to Use Shipping Containers as Homes
The same report as above, from Business Wire, suggests that there are several significant benefits of using shipping containers for homes.
Budget Friendly
Firstly, there is a comparatively low construction cost when contrasted with traditional houses. Live Off Grid estimates the average price of a shipping container home can range from £40,000 for a modest, one-bedroom apartment to £140,000 for a more ambitious, four-bedroom container home. Compared with traditional house prices in the UK, the national average is around three times the price. It's clear, then, that widespread affordability could be one of the reasons to use shipping containers as homes.
Sustainable
Not only can shipping containers provide a low-cost choice for prospective homeowners, but they can also provide an eco-friendly one. According to Attainable Home, shipping containers are much easier on the environment than traditional 'bricks and mortar' homes. In addition, they claim that the steel containers provide the basic framework of the house, meaning that a smaller amount of building materials and energy is required to construct the house. When much of this energy is expended by fossil-fuel-burning construction machinery, it's clear that sustainability is a critical benefit of using shipping containers for homes.
Adaptable
It's no secret that shipping containers were designed to be transported, that being their primary design, which adds to the practicality of using shipping containers as homes. With their relatively lightweight construction (compared to traditional houses), they can be moved easily from place to place. While a homeowner traditionally has to sell their house or flat and repurchase elsewhere, container homes could provide an alternative. The blend of durability and sturdiness with mobility and flexibility could see a move towards hybrid homes, bridging the gap between motorhomes and houses.
How People Are Converting Shipping Containers into Homes
Now that we've covered some of the benefits of using shipping containers for homes, let's explore some examples of how real people apply those advantages to their everyday lives.
Floating Container Home
Designer and TV presenter Max McMurdo is fully embracing the container life. His converted shipping container doubles as a houseboat on the picturesque Bedford marina, providing a well-appointed one-bedroom flat. Max says he first dreamt of container living while still staying at his parent's house and designed the home using early CAD (computer-aided design) software. He then capitalised on the upcycling revolution and experience of renovating his prior home to make his dreams a reality.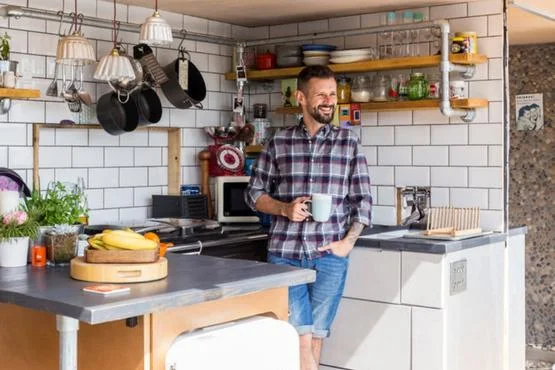 Image Credit: Houzz
As a big fan of natural light, Max opened up the side of his container into large glass doors that fold back along the front of his home to flood the space with light. He utilised an upcycled Rayburn range cooker for food preparation and power the home's underfloor heating. Utilising clever space-saving techniques like suspended sweet-jar lights and fold-down shelves, Max could balance home comforts and maximise space at a premium in any smaller home.
"The aim of this project was to create a nice living space for a young couple," said Max. "I wanted to show that you don't need to decide between living either in a house or on a boat; there can be something in the middle."
The BOX BNB
For those looking to sample the container life without committing to a permanent purchase, short-stay shipping container venues like the BOX BNB could be the answer. Nestled on a working farm on the edge of the North York Moors, these high-end cabins provide luxury accommodations for those looking to escape the daily grind.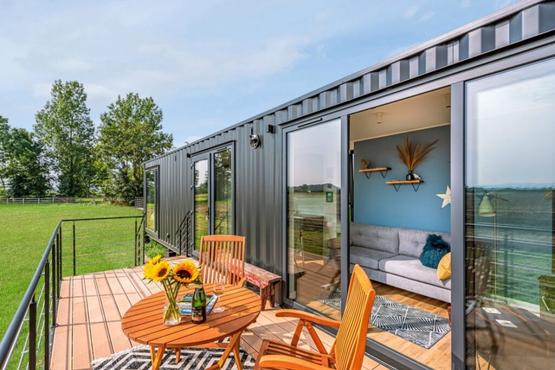 Image Credit: Host Unusual
Similarly to Max McMurdo's hybrid houseboat, the three container flats (Pig BOX, Duck Box and Rabbit BOX) use floor-to-ceiling windows and doors to allow natural daylight to bathe the interior. Each BOX also features a natural wood burner to give it a homely, cosy feel. Modern amenities aren't sacrificed either, with the apartments including high-speed WiFi and all modern appliances. This container home-from-home is an excellent display of how life in a container need not sacrifice luxury or comfort in favour of practicality.
Beating the Housing Crisis
Lastly, let's look at QED Sustainable Urban Development project, as they team up with Ealing Council to challenge the ongoing London housing crisis. In Verdict's 2018 feature, Councillor Julian Bell of Ealing Council explained the struggles of finding emergency housing for those in need. With rising bed and breakfast costs and a lack of availability, families are being moved out of their home area. Julian believes that shipping container homes can provide the solution that Ealing needs, as shown below.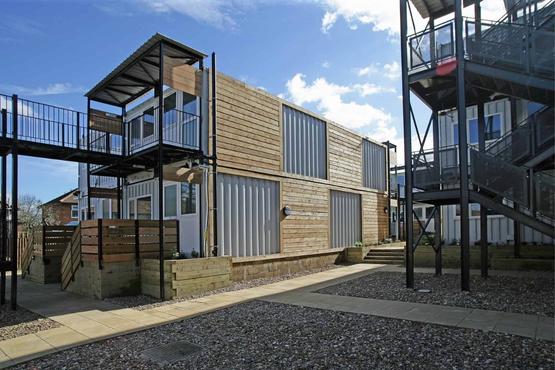 Image Credit: ISO Spaces
Enter Ross Gilbert, Managing Director of QED. He discussed the research conducted with various housing charities and, along with the team at QED, identified the surplus shipping container stock in the U.K. as a potential solution. The design teams then worked to create structurally sound, reusable and adaptable homes. Citing their simplicity, availability and strength as key advantages, Ross believes that shipping containers could spell a long-term solution to housing challenges for people from all walks of life.
Build Your Dream Home with Philspace
If you're interested in the benefits of using shipping containers as homes, our four decades of experience can offer the support you need. With over 1,700 units available to rent for your building works or a number of second-hand units to purchase as your dream home starting point, we can meet your shipping container needs.
Head to our products page to see our range of top-quality container solutions or our used containers page, or get in touch to discuss your specific requirements.
Related Posts