In our most recent blog, we discussed how people are embracing container life and converting their shipping containers into homes. While the space efficiency, economic benefits and flexibility offered by container homes might be green flags for some, others might be questioning whether or not you can convert a shipping container into a truly luxurious space.
At Philspace, we believe there's no end to the versatility offered by shipping containers, so we thought we'd share a few of our favourite luxury container conversions. From sprawling mansions to glamping sites and even trendy new town-planning prospects, read on to find out more about these luxury shipping container conversions.
Shipping Container Mansion at RDP House
Back in 2015, Daniel Moreno Flores and Sebastian Calero conceptualised the idea of a luxury container home. While the concept of small, affordable and adaptable container homes had been around for some time, Flores and Calero decided to dream bigger, desperate to figure out how to convert a shipping container into a luxury space.
The fantastic result was RDP House, built in Ecuador. Spanning over 25,000 square metres, this luxury container conversion utilises seven 20-foot containers as well as one whopping 40-foot shipping container. Flores was keen to keep the containers in their imperfect, distressed state to give the home a unique and rustic feel. This allowed it to better blend in with the peaceful Ecuadorean countryside.
The interior, however, spared no expense when it came to luxury. Flores and Calero seamlessly blended the industrial feel that is authentic to container homes with modern amenities like wood panelling, vintage furnishings and even a grand piano located on their sheltered veranda.
The intricate placement of the containers and glass walls gives this luxury container home a sprawling, open feel on the level of any traditional mansion.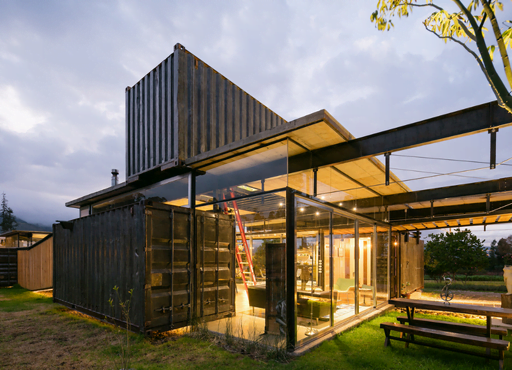 Image Credit: Arch Daily
Luxury Glamping at Trelan Farm
Wynne and Catherine Davies tapped into a hitherto unidentified market when they repurposed an old shipping container and steelworks wagon. By combining on-farm ingenuity with state-of-the-art London interior design, they created a unique and desirable boutique retreat in North Wales that made its way into the Guardian's top 30 UK destinations for 2021. Wynne and Catherine devised the concept to hold onto the farm amid a rocky period for food production in the UK.
By combining rural simplicity with exquisite design, this luxury container conversion allows guests to watch their idyllic, pastoral surroundings from the comfort of their oversized outdoor bath while sipping their drink of choice. In addition, the venue offers supreme privacy, with a private path leading you to the final landing place of a shipping container that once sailed the seas.
The contemporary kitchen offers every modern amenity, too. With soft linen, beautiful textiles and a high-end ensuite bathroom, visitors can merge the luxury of a big city hotel with the peaceful tranquillity of a farm retreat.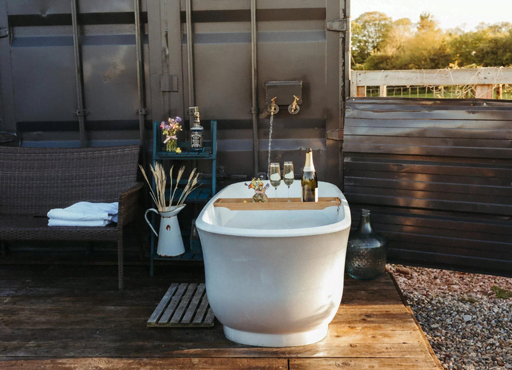 Image Credit: Trelan Farm
Mountain Retreat at Casa Oruga
The rugged terrain of the Chilean Andes can make construction and habitation complex. At least, they did until Sebastián Irarrázaval Delpiano put his plan into action for the striking Casa Oruga or 'Caterpillar House.' Focussed on creating an architectonically perfect home that blends with the mountainous landscape to evoke privacy, elegance and luxury, Delpiano utilised the modular and adaptable nature of shipping containers to showcase his abilities in this exquisite luxury container conversion.
The configuration enables external air to run smoothly and efficiently through the house, reducing mechanical overheating and wind resistance and improving stability. Similarly, contact between the ground and this luxury shipping container conversion is kept to a minimum, giving the impression that Caterpillar House is perching lightly on the mountainside.
The clean lines and simple, elegant axes are reminiscent of modernist architecture, lending a calm, crisp aesthetic that doesn't skimp on airiness, space and scale. Floor-to-ceiling windows afford stunning views of the Andes, while open decking areas allow residents to enjoy the balmy Chilean weather.
Image Credit: Archello
Beach Box in the Hamptons
The final luxury shipping container conversion we will discuss is this modern beach house set on the eastern side of Long Island in the prestigious Hamptons area. Its name, 'The Beach Box,' doesn't do this extensive seaside villa justice, as it spreads to just under 2,000 square feet. Featuring four bedrooms and three bathrooms, as well as unparalleled access to Napeague Beach, The Beach Box is an excellent example of how to convert shipping containers into luxury spaces.
Built-in 2011, The Beach Box uses no fewer than six shipping containers split over two levels. And no expense was spared when it comes to outdoor luxury and quality. It benefits from cedar-wood decking surrounding its jacuzzi and heated saltwater pool, while exterior cladding protects the container's metal from corrosive sea spray, ensuring long life.
Inside, a bright colour palette and abundant natural lighting give the home a warm, beachy feel and maximises the open space afforded by this luxury beach accommodation.

Image Credit: Discover Containers
Create your own luxury shipping container conversion with Philspace
Here at Philspace, our extensive experience and knowledge can help you turn your luxury conversion dreams into reality. We've got over 1,800 rental units for you to use during construction, or our second-hand units can give you the means to start your own luxury container conversion today.
Take a look at our products page to see our full range of container solutions, and head over to our used containers page to find the perfect building blocks for your conversion project. Alternatively, feel free to get in touch to discuss any more bespoke requirements you may have.
Related Posts