If you enjoyed our first newsletter, you will love our second one!
We are continuing to operate under Government guidance, but are currently not allowing site visits. We are also doing our bit in the fight against Covid-19 by supplying the NHS and Ministry of Defence with storage, office, and welfare units to help support their ongoing Coronavirus strategy.
At Philspace, we work hard to solve the challenges presented to us by our clients and as such, you can read some of our success stories in this newsletter.
That's all for now, but please let us know if there is anything you'd like to see covered in the next newsletter.
LATEST BLOGS
We love sharing our experience and expertise. Here are some blogs where we offer tips and insights.
ADVANTAGES OF TEMPORARY SITE ACCOMMODATIONS
Learn more about how temporary site accommodations can benefit you and your workers on the construction site.

HOW TO MAKE THE MOST OF YOUR STORAGE UNIT
Here are ways to maximise the space in your rented storage unit. Find out how you can efficiently fit in more stuff with a bit of planning.

WHY DO YOU NEED WELFARE UNITS?
Welfare units are a legal requirement for any construction site. Learn why they are so important and what you need to provide.

UNUSUAL JOBS
We love getting jobs that make us think outside of the box (pun intended!) Take a look at what we've been getting up to!
CHALLENGE ACCEPTED!
A stacked site office & welfare unit in a location that was so tricky that another supplier had declined the job?
Well, challenge accepted.

GREEN DELIVERY?
Did you know we can provide units in different colours?
We sorted these two green linked 40'x10' anti-vandal welfare units to a garden waste recycling centre in Oxton, Nottinghamshire.

INDUSTRY NEWS
Are you interested in reading interesting industry stories? Here's one.
50 SMALL BUSINESSES TO START IN A SHIPPING CONTAINER
Here are 50 small business ideas that you can start in a shipping container. If you're looking for a new venture to get into, these ideas might inspire you.

USED SALE ITEMS
Throughout the year we upgrade our existing storage containers and portable site accommodation so that we can provide our customers with the highest quality products.
24FT X 9FT AV OPEN PLAN MESS – HF 3703
Size: 24ft
Age: 2004
Specification: Canteen, Welfare, Anti Vandal
Price: £4250.00 + VAT

PRODUCT SPOTLIGHT
Each quarter, we put a spotlight on one of our products. Take a look at what we are offering.
WHEELED SITE FACILITIES
If the challenge is access or mobility, our wheeled units can be the perfect solution.
Get flexibility on your site – choose single or multiple welfare facilities or drying rooms.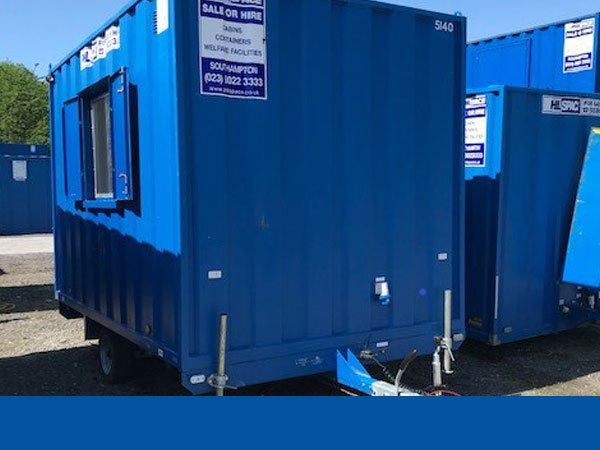 ARE YOU LOOKING FOR SPECIFIC ADVICE?
Speak to a member of our team for bespoke, personalised recommendations: 02380 223333.