In recent articles, we've spoken about the various uses that shipping containers can have as first aid rooms, on construction sites and even the ways that people are converting shipping containers into homes. This is because the versatility of shipping containers is one of their most vital assets, and none are more flexible in their applications than Welfare Units. Whatever the scale or use that you want to put it to, a welfare unit can accommodate you with a secure, safe and self-contained solution.
That's why in this article, we decided to look into 4 unique ways of using Welfare Units and how they can meet your need or benefit your business.
What is a Welfare Unit?
Before we explore the benefits of Welfare Units for you and your business, let's briefly go over what we mean by a 'Welfare Unit.' At Philspace, our Welfare Units are self-contained containers with toilets, water access and generators. The idea behind them is to provide a canteen, office, recreational or workspace that's mobile and self-sufficient.
First Aid Stations
The Health and Safety Executive (HSE) requires all workspaces to have proper access to First Aid facilities in line with the risk of the location and job. For many employment types, this may be in a designated room or area within a building. However, for industries such as construction, landscaping and other outdoor workplaces, this isn't always possible.
Mobility, access to hot and cold water, as well as reliable electric lighting and heating, are just some of the benefits of Welfare Units that can provide a convenient and safe way for such workplaces to meet their HSE First Aid criteria. In addition, with their flexibility in scale, they can provide First Aid solutions to workspaces of any times. For more detailed information on how shipping containers are being used as First Aid stations on construction sites, read our recent blog.
Site Offices
For industries based in rural or inaccessible locations such as building sites, access to a clean, dry and secure office space can be difficult. Expenses can also rise when renting a local office space to hold meetings, training sessions, or carry out administration.
Office space is one of the best ways to utilise Welfare Units. With seating for multiple people, as well as access to bathrooms, water, heating and electricity, they can provide a comfortable space for admin teams, meetings or group learning. Whether an informal chat with clients over a coffee or a video presentation to your team, Welfare Units can provide a comfortable and affordable environment. And, with their secure anti-vandal safety capabilities, you can rest easy knowing that your office equipment is protected out of hours.
Rest and Recreation
Similarly to the difficulties acquiring office space, many industries must work in isolated locations where places to spend down-time are few and far between. While those working in more urban locations can pop around the corner for a coffee and a bite to eat on their lunch-break, numerous workplaces aren't afforded this luxury. However, facilities must be put in place for these breaks as, not only are they legally required, but they also result in a happier and more productive workforce.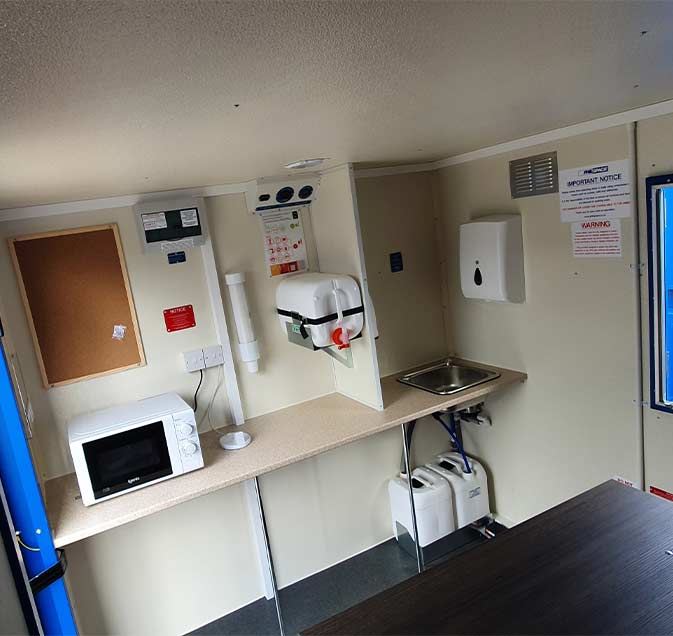 One of the most significant benefits of Welfare Units is that they allow you to bring a rest and recreation space to your workforce. This avoids staff having to drive or travel to find somewhere to spend their downtime, supporting their work-life balance. With heating, food and drink preparation facilities and even the ability to fit a TV or radio, staff can enjoy their lunch breaks in peace and comfort.
Changing Rooms & Laundry Facilities
For those working in industries such as construction, highway and public maintenance or landscaping, a change of clothes may be a necessity. When operating with dust, mud or even dangerous substances such as flammable liquids, staff must have the facilities to wash and dry their clothes on site to minimise the chances of transmitting hazardous or unpleasant substances.
A unique way of using Welfare Units is to utilise their water supply, either independently or through mains water, as well as electrical capabilities to provide your staff with a secure location to store their belongings, wash their clothes and change between the two.
Find the Best Welfare Unit for You
Here at Philspace, we provide a range of Welfare Unit solutions to accommodate your needs irrespective of scale or other requirements. Each of our Solo Welfare units meets HSE and Construction Design and Management (CDM) requirements and offers anti-vandal features.
The Solo 6
Designed with mobility and ease of use at the forefront of our minds, the Solo 6 is straightforward to tow and install. It features a built-in chemical toilet and generator and can comfortably seat up to six people. Find out more here.
The Solo 16
For more extensive welfare unit needs, consider the Solo 16. As the name suggests, this larger unit comfortably seats up to 16 people and includes a drying room, toilet and weekly service contract, as well as its own self-contained water supply. Learn more here.
The Combi
This unit features the best of both worlds. Perfect for an office or canteen layout, it utilises mains water supplies to provide hot water, as well as seating for up to eight people. A partition door can also be installed, if required. More information is available on our site.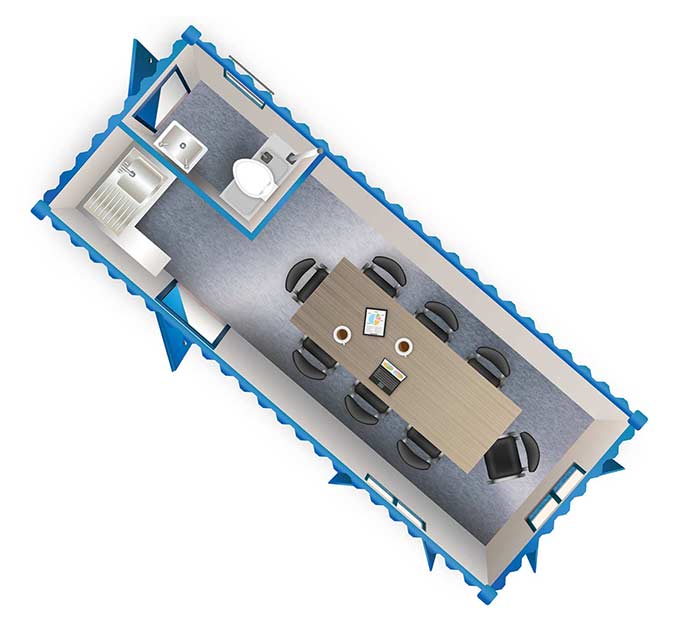 An example of a Combi Unit Floorplan