We hope our third quarterly newsletter finds you, your family and colleagues in good health, especially whilst we navigate the current Coronavirus pandemic.
We continue to operate our business as per Government guidelines and are open for site visits. However, visiting our offices is by appointment only. We have continued to help out with the fight against Covid-19 by supplying the NHS as well as the Ministry of Defence with welfare facilities, office and storage space. You can read more about this further down the newsletter.
As well as this, we've been working hard over the last three months, so please read on.
We'd also like to hear from you. How has your business adapted? Have our products helped you during this crisis?
LATEST BLOGS
We love sharing our experience and expertise. Here are some blogs where we offer tips and insights.
PROTECT YOUR TOOLS AND EQUIPMENT AT YOUR CONSTRUCTION SITE
We've put together our list of tips that could help you keep your tools and equipment safe at your construction site.

WHY WE NEED BETTER HYGIENE ON CONSTRUCTION SITES
Here's why we need better construction site hygiene, and not just to prevent the spread of Covid-19.

WELFARE UNIT AND SHIPPING CONTAINER USES DURING THE COVID-19 CRISIS
Have you seen how welfare units and shipping containers have been useful during the Covid-19 crisis?

UNUSUAL JOBS
We love getting jobs that make us think outside of the box (pun intended!) Take a look at what we've been getting up to!
BORNE IN A BARN?
What do you do if you need a welfare unit inside a barn?
Call us. We'll figure out a way like we did for this farm in Alresford!

DOUBLE STACKED!
Welfare facilities in limited space?
We double-stacked our units at the construction site in Drayton, Portsmouth for our client.

DIGGING FOR HISTORY!
The University of Winchester was excavating an ancient Roman site in Meonstoke.
Philspace was there, delivering a welfare unit!

BY THE TRACKS
Fire-rated unit right next to the railway line?
We went to Guildford Railway Station late in the night when no trains were running.

COVID-19 NEWS

OUR COVID-19 UPDATES
As we mentioned, we've been doing our part in the battle against Covid-19. One of the projects we undertook was for the NHS hospital at Lymington.
The Lymington job originally started with a Covid-19 testing pod which was delivered back in March. It featured its own toilet to minimise the risk of infection and contamination. Some weeks later, we were contacted again to arrange storage units for the hospital as they created more space in the wards for the potential influx of patients. We were able to get the first storage containers out on the same day as the original enquiry!
In addition, Philspace has been working hard with the NHS & MoD throughout the pandemic, from refrigerated and bespoke storage solutions through to full office and welfare setups, all which have been delivered in a quick and timely manner.
Do you need our welfare units or temporary accommodation units during these difficult times? Let us know!
INDUSTRY NEWS
Are you interested in reading interesting industry stories? Here's one.
10 SIMPLE CONSTRUCTION SITE SAFETY RULES
Here are ten simple rules that could help you improve the safety in your construction site, making it safe for you and everyone around you.

USED SALE ITEMS
Throughout the year we upgrade our existing storage containers and portable site accommodation so that we can provide our customers with the highest quality products.
16FT X 9FT JACKLEG OFFICE – HF 1865 – SOLD
Size: 16ft
Age: 2001
Specification: Jackleg, Open Plan Office, in need of repair
Price: £800.00 + VAT

PRODUCT SPOTLIGHT
Each quarter, we put a spotlight on one of our products. Take a look at what we are offering.
SOLO 6 WELFARE UNIT
Robust and easy to install, the Solo 6 is a quick and easy way to provide welfare facilities on your premises or construction site.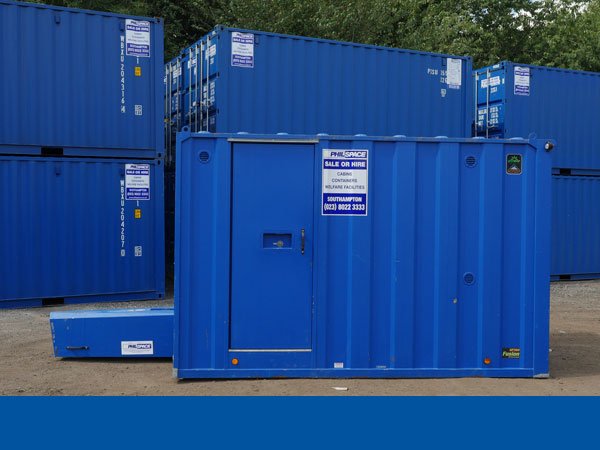 ARE YOU LOOKING FOR SPECIFIC ADVICE?
Speak to a member of our team for bespoke, personalised recommendations: 02380 223333.