Alternative uses for welfare units
Welfare units are a quick and easy way to offer a seating area for employees, along with a toilet area also provided. But, these units aren't just for construction sites. There are loads of other alternative uses for welfare units.
Welfare units are mobile units that include a seating area and a toilet. These can be a quick and easy way of providing welfare facilities at a construction site. However, did you know that these can be used in other places as well?
At Philspace, we've had clients ask for welfare units in some very unusual locations. This just goes to show that a little creativity in thinking can provide so many new solutions. Here are some of the places other than construction sites where welfare units can be, and have been, used.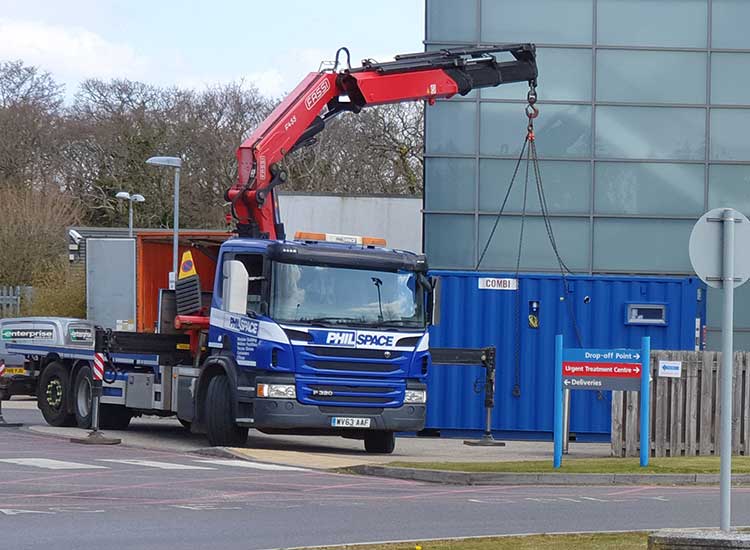 Archaeological Dig Site
An archaeological dig site may often be at a remote location, without any facilities nearby. Even when it's not, you may still need to provide welfare facilities for the crew at the site. This makes these sites a great place to use welfare units.
With mobile welfare units, you can provide the workers with a place where they can rest during the day. It gives them a sheltered place to have their meals and get out of the sun for a bit.
Whilst you can also rent portable showers and toilets, a welfare unit combines a sitting area and toilet facilities in one compact little setup.
So, when the Department of Archaeology, Anthropology and Geography of the University of Winchester were undertaking a Roman excavation project in Meonstoke, Hampshire, we were happy to help them out.
Railway Station
While a railway station might not seem like a place that requires a welfare unit (it has facilities inside, doesn't it?), we provided one at Guildford Railway Station. The unit was needed as a cabin for parking attendants during a refit project.
We also received specialised requirements for this as it was supposed to be placed adjacent to the railway line. Firstly, it needed to meet fire safety specifications, and secondly, since it was to be placed next to the railway line, we had to deliver it when there weren't any trains running!

Recycling Centre
Recycling centres require welfare facilities, including toilets, showering and changing areas, in addition to an office space. A welfare unit is a cost-effective way of making sure the staff is provided for. Since it's a prefabricated unit, it simply needs to be transported to the site, to supplement the existing infrastructure.
In fact, combined with our secure office units, toilet and shower blocks, you can do away with the need for construction altogether!
If you aren't sure this is feasible, check out the anti-vandal office and welfare units we supplied at the new compost recycling centre in Oxton, Nottinghamshire.

Farm
Large farms often have work areas that are far away from the main building. In such situations, it's good to have welfare facilities closer to work instead of expecting workers to go across even a short distance.
We had one such farm that needed a welfare unit, but in a difficult spot. They wanted it to be placed inside a barn! It took some ingenious thinking, but we managed to position the unit with a crane, exactly where the clients wanted it.

Testing Pods for Hospitals
Testing for Covid-19 plays a major part in containing the spread of the disease. However, it is also unsafe for people who think they might be infected to enter hospitals and clinics.
At Philspace, we've been doing our part to help keep essential workers safe. Thus, when the NHS hospital at Lymington came to us for a welfare unit, we were happy to oblige.
This unit was kept outside the hospital building to be used as a testing pod. Since it featured its own toilet, the unit was entirely self-contained. As a result, healthcare workers and patients who were being tested didn't have to go inside the main building.
If you say you can't use welfare units anywhere other than at construction sites, this example clearly demonstrates that these units are much more versatile than you'd think.

Outdoor Events
Large outdoor events and gathering need toilets and other facilities, depending on the type of event. Some may require only toilets, while others might also require shower blocks as well as temporary office space.
More importantly, they might not require these permanently, as the needs may vary from event to event.
In such a case, a welfare unit can provide combined office space, changing room, and storage space in addition to a toilet and hand-washing facility. The best part is, since these units are mobile and easy to move, they can be brought in as and when they are needed.
As you can see, welfare facilities aren't just needed at construction sites. If you can think of a place where you might need these units, even if it's difficult to get to, let us know. We'll be happy to advise you and deliver your unit wherever you need it.