A NEW SOLUTION FOR ON-SITE WELFARE
Site managers and contractors can now provide workers with even greater comfort, security and convenience thanks to the brand new Groundhog unit from Philspace.
Philspace's welfare range, called the 'Solo' range, welcomes another new Solo 6 unit to the company's fleet. It is a lightweight, compact and towable single-axle welfare unit which meets HSE requirements. The Solo 6 is named after its six-man capacity; Philspace also offers a Solo 10 and 16 unit.
As well as being lowered and secured in under three minutes, the Solo 6 includes a washroom, chemical toilet, kitchen and seating area, making it ideal for start-up projects which have no hard services on site.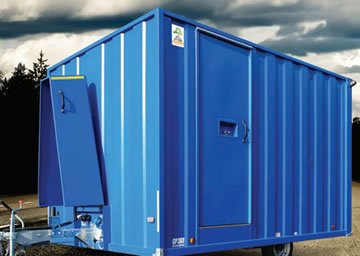 "The Groundhog units have been part of our fleet for well over a decade now and we're pleased to be investing in this brand new Solo 6 unit. Our new Solo 6 unit is focussed on delivering flexibility. We can include whatever's required in terms of welfare and it's particularly suited to sites where there's no water, drainage or electricity.

The beauty of this mobile welfare unit is how light and manoeuvrable it is to transport, and that it can be positioned on-site by one person. It's also energy efficient and eco-friendly, as well boasting a host of high security features. The Solo 6 is the latest unit from Groundhog's Fusion range and it will ensure we can continue to offer our customers the very best in on-site welfare provision.

Lee Chamberlain

Philspace's Health & Safety and Sales Co-ordinator
The Solo 6's environmental credentials include reduced fuel usage, a 60% reduction in generator servicing and reduced noise pollution.
From a security perspective, this Groundhog Welfare Unit features high security windows, shutters, double locks and it is constructed from vandal resistant steel.
Find out how the Solo 6 can meet your on-site welfare requirements by contacting Philspace today; call us on 02380 223333 or email enquiries@philspace.co.uk.