USES OF SHIPPING CONTAINERS
Used shipping containers still have a lot of life left in them so it's a shame to waste them. Here are some novel uses of shipping containers that could inspire you.
Recently, we posted a story on Facebook about how we were a part of an effort to save a village shop. PhilSpace supplied the shipping container that eventually became the Broughton Community Shop.
This got us thinking about the other ways shipping containers be used. There are some obvious uses, but some people can get really creative. Here are some ideas that these creative minds have come up with to use old containers.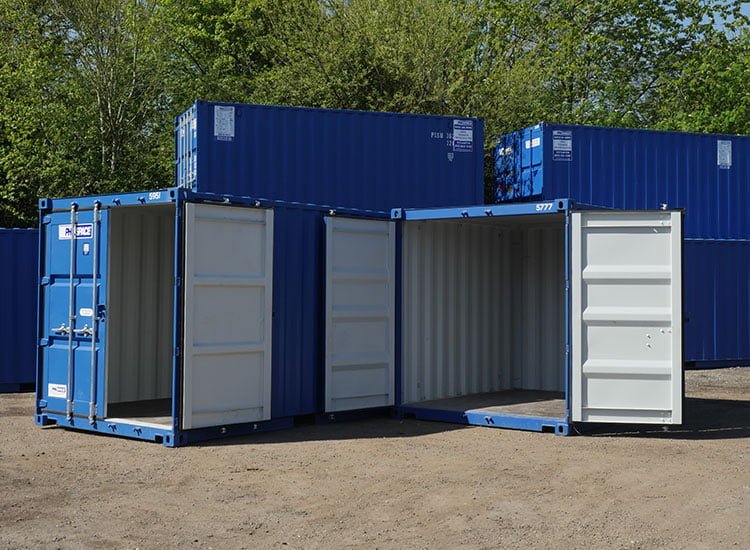 Living Space
This use of shipping containers is actually so popular that it has its own name – cargotecture. People are using single or multiple containers to build strong, relatively low-cost, eco-friendly homes.
Repurposed shipping containers are also being used as office spaces. They are stackable, so you can create multiple work areas. Since they can be moved around, you can change the layout whenever you want.
The fact that they are designed to be stackable and load bearing also makes them perfect for multi-level buildings, providing multiple homes in a relatively small area.
Working Space
A used container is sturdy and lasts longer than a wooden structure. It's also a large rectangle space. Doesn't that sound perfect for a garden shed?
You can use a shipping container as a sturdy shed for your garden. But did you know you could also use it as a working space?
If you're someone who likes pottering about with tools, a used container can be converted into a quick and easy workshop. It also works brilliantly as a studio for all kinds of art and craftwork.
Retail Outlet
Anyone's who has been to one of the Boxpark shopping centres in London will be familiar with the idea of using container boxes as retail spaces. (Did we mention we supplied a shipping container that was used as the village shop?)
These boxes are so versatile and easy to convert that you can design and decorate them in any way you want. Even if you aren't a part of a larger Boxpark-like structure, these containers can also make attractive and quirky standalone shops.
Restaurants and Cafes
Instead of having to build an entire structure, a shipping container gives you pre-made walls, roof, and floor that you can then customise. So if you want to set up a low-investment café or a restaurant, this versatile box can give you an excellent starting point to build on.
Even a single container can easily be converted into a food van-style restaurant!
Swimming Pool
Since containers are designed to hold great loads, are long and narrow, and can be easily waterproofed, they are ideal for converting into swimming pools. Their length is perfect for swimming laps too.
Plus, you can easily construct a deck around them so you don't need to sink them into the ground. If you consider how fragile above-the-ground pools are, having a durable container pool makes complete sense.
Eco-bridge
The long, narrow shape of shipping containers also makes them great for laying end to end to make bridges. These sturdy structures protect the people going across from the elements.
Another useful benefit they could provide is making it easier for cattle to cross a river, since these beasts are nervous about walking across a bridge where they can see the water flowing under them. A covered container bridge looks very similar to a cow shed, making it less stressful for them while also concealing the water body.
Schools & Classrooms
There are some parts of the world where people don't have the infrastructure for education. In such places, retired shipping containers can provide the framework for a school or a classroom.
These boxes can be transported easily, and can be modified faster than building a permanent structure. As a result, they can be used to set up a building or classrooms for education almost overnight.
Emergency Hospitals
Since they are easy to modify and transport, shipping containers make excellent emergency hospitals, especially for disaster relief. They can be taken to the disaster area instead of transporting the sick or the injured over a long distance.
Disaster Shelter
People end up losing homes, or having to evacuate during a natural disaster. Portable shipping container shelters can be the ideal solution to their accommodation problems while they wait to get back to their house or find somewhere else to stay.
Student Housing
Student housing can be a problem mainly because of space and the cost. Shipping containers once again come to the rescue. These stackable living spaces provide an adequate yet compact area that can house students without being extremely expensive to set up.
In-door Farming
In addition to making an excellent garden shed, a shipping container can also serve as an indoor garden. This resilient box can house plants that are not hardy enough to survive outdoors. Also, since containers can be stacked on top of each other, you can them to grow more food crops in a limited area.
Storage Units
Shipping containers are built for strength and storage. So when you need storage space, they are the ideal solution. The robust structure is extremely difficult to vandalise or break into, and a 20' container is about the size of a large garage.
Fire Training Facility
Fire training requires a facility that is not a fire risk but is big enough to train in. Well, shipping containers are made out of flame-resistant metal and can be joined together to simulate multiple rooms in a house. Here's an example of such a fire training facility!
These are the uses we could come up with. Do you have any more ideas? Share them with us, or get in touch with us to check out our container range that you could use for your next project.